Faith Hill carries the Sophie Blonde Sundance; Tori Spelling favors a Sophie Python. These "Sophies" are BSwanky bags, and whether the woman toting one is known to millions or worth a million to the few she knows, BSwanky CEO and Founder Gretchen Bauer hopes she will "B" the difference. It's the motto that infuses every inch of her business—and it's the reason, she says, her Sarasota design studio and atelier is thriving.
A recent visit to the BSwanky B Bold Concept Store reveals the products and overriding joy that permeate the company. Bauer can't wait to get to the design studio, tucked behind the retail space, each morning. Here, embossed leather swaths, softly patterned cowhide and tanned python are transformed into memorable showpieces. The highest-quality nickel hardware shines, awaiting its mission as a handbag's finishing touch. And the staff, mostly composed of immigrant workers, is given a voice.
One-of-a-kind products are the store's showpieces, with limited editions proudly displayed next to newly released designs. These luxurious, handcrafted pieces come with price tags ranging from $350 to $4,000. BSwanky bags are sold across the globe. They're found on shelves at more than 25 retail locations throughout the United States and Europe—including, of course, select Sarasota boutiques.
"These are innovative, multifunctional bags made by women who deserve to work in a supportive place," Bauer says. "We encourage our employees to be involved in the design process and to share ideas."
The original premise behind BSwanky was to provide better working conditions for manufacturers. Appalled at the knowledge that illegal sweatshops still flourish in America, Bauer decided to channel her 25 years of interior design experience into a new endeavor: handbags.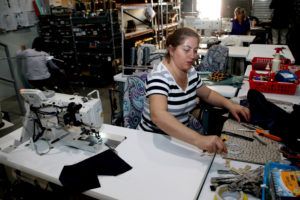 She started BSwanky in San Antonio and moved the operation to Sarasota soon afterward. Demand has been so high, recently, that she tripled her employee count.
Why are so many women choosing to be swanky with Bauer's bags? Think innovative and multifunctional—and more than meets the eye. There's the visual appeal of each piece, yes—but they also transitions, seamlessly into a backpack. Every design represents hours of careful craftsmanship. These aren't just bags with heart; they're of seriously high quality and aesthetic brilliance.
Growth has been extremely organic. Sales increased 728 percent from January 2019 to January 2020. And now a major Florida retailer signed on to highlight the bags in its stores. Multiple celebrities now carry them. The rave, Bauer says, she hears the most across the board is that sporting a BSwanky bag makes a person feel proud—not just because it is a status symbol, but because of what it represents.
"These bags bring people together," she says. "People stop each other on the street to share."
It's easy to spot a BSwanky design, but that doesn't mean they're identical. Thanks to a partnership with Amy Siewe, second-place winner in the 2020 Python Bowl, the business has a steady supply of tanned python hide to work with. No two skins are the same, which makes each bag truly a limited edition. Pythons are an invasive species and BSwanky supports the removal of the snake from the Florida Everglades. Siewe skins and tans the skins herself, and took place in a recent BSwanky photoshoot in which she poses with a bag crafted from her catch.
The hides hail from five different providers and are all ethically sourced. Once a certain pattern is used, it won't be found again. And remember that culture of creativity? When an employee expressed interest in designing a bag, Bauer listened. The Magnabel line is the result—complete with the Magnabel Indomitable Woman bag, which features a marbled façade.
This ability to take an idea and quickly manufacture it in a quality manner is a BSwanky competitive advantage. Most factories are automated centers of mass production; this cozily effective design studio is the opposite. Bauer points to the reaction a CEO of several international manufacturing companies had to the operation upon touring. He declared that theirs is not a factory—it's a workshop featuring handcrafted, quality products.
"We do consider ourselves to be trendsetters," Bauer says of herself and her team. "We really can quickly turn on a dime and manufacture that 'next big thing.' "
She hopes this year brings partnerships with other retailers and more opportunities to give back. Donations for 2019 totaled $68,000 in value; the company gifted women at the SPARCC shelter BSwanky bags as Christmas gifts. Nonprofit groups regularly tour the studio and hold events on-site.
"Our brand is synonymous with 'B the difference,' " Bauer says.
New developments include alligator-skinned bags; look for a much-anticipated clutch to be released this summer. The synergy in the studio is palpable, with ideas regularly considered and sketched. Just don't ever expect the "B" to stand for "basic."
"A basic black bag will never be made here,' Bauer says. "Why would a woman want to be like anyone else?"
Visit the BSwanky concept store at 6321 Porter Road, Suite 3 in Sarasota, or online at bswanky.com.
Photos by Penny Rogo