By Stacey Pittman, CFA, CFP, CPWA, Managing Director, BT Wealth Advisors
As a wealth advisor and the mom of a college freshman (Go Gators!), I am acutely aware of the challenges of planning for college. In speaking with clients, I emphasize that education planning is often the most challenging of the areas of financial planning. There is a wide range of potential outcomes you and your child will face—everything from Ivy-league schools that carry $75,000 per year price tags to in-state tuition options that might be covered by scholarship programs like Bright Futures. To compound the problem, you and your child will not know which schools they will be accepted to, and what scholarships or grants they may receive, until mere months before your child commits to a university.
Here are some factors to consider when it comes to college planning:
A college degree is extremely valuable, but it comes at a high price! College degrees open the door to higher earnings. College graduates also tend to have more job stability, and opportunity, especially during economic downturns. However, college costs are high and increasing! According to JP Morgan Asset Management, college tuition has increased at a faster rate than any other household expense since 1983—a whopping 840% during that time. Additionally, the 2021-2022 average tuition, fees and room and board expenses are $22,690 per year for a public university and $51,690 for a private university.
Have a plan! According to Sallie Mae, only 54% of families have a plan for how they are going to pay for college. The good news is that families who DO have a plan tend to have 2x as much saved as non-planners.
Don't just save…invest! Unfortunately, the most commonly used saving technique for college is cash (checking/savings/CDs.) Yet, there are wonderful tools such as 529 plans that enable families to invest funds in a tax-efficient way. According to JP Morgan Asset Management, an initial investment of $10,000 with subsequent monthly contributions of $500 over 18 years would grow to $130,286 in a cash account earning 1% per year. Those same contributions would grow to $219,950 in a 529 plan earning 6% per year.
Consider the many benefits offered by 529 plans. 529 plans are tax-advantaged savings tools designed to encourage savings for future education costs. They provide tax-deferred compounding of contributions and investment earnings, and tax-free withdrawals for qualified education expenses (tuition and fees, room and board, books and supplies and computers and related equipment). There are no income limits for those who contribute to 529 plans—owners maintain full control of the assets.
Revisit your plan annually. With investment options like target-date enrollment funds, it's easy to "set it and forget it" when it comes to college planning. However, it is crucially important to revisit your college plan annually. Costs continue to grow and it is important to evaluate your projected costs and the performance of your college savings.
Have a family meeting with your student. There are so many factors to consider in both the costs of a college education and the ways to finance it. Have a conversation with them about how they can contribute toward their education and set clear expectations with them before move-in day.
College is a huge step in the lives of students and their families. It can also be a tremendous financial commitment. If you would like to learn more about education planning, please consider working with a BT Wealth Advisors salary-based advisor who can help develop a customized plan that meets the needs of your family. Contact me or a member of my team by calling (813) 998-2791 or emailing me at spittman@btwealthadvisors.com.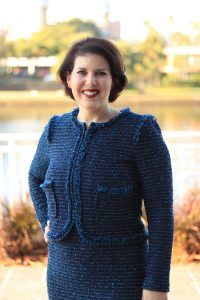 About the Author
Stacey Pittman serves as Executive Vice President, Managing Director of BT Wealth Advisors, the wealth management division located at The Bank of Tampa. Pittman brings over 17 years of experience as a financial analyst and institutional manager and over seven years of experience as an investment advisor representative with LPL Financial. Pittman holds a Bachelor of Arts from Harvard University. She is a Chartered Financial Analyst, a CERTIFIED FINANCIAL PLANNER ™ Practitioner and a Certified Private Wealth Advisor®
Disclosures
Securities and advisory services are offered through LPL Financial (LPL), a registered investment advisor and broker-dealer (member FINRA/SIPC).  Insurance products are offered through LPL or its licensed affiliates. The Bank of Tampa and BT Wealth Advisors are not registered as a broker-dealer or investment advisor. Registered representatives of LPL offer products and services using BT Wealth Advisors and are also employees of The Bank of Tampa. These products and services are offered through LPL or its affiliates, which are separate entities from, and not affiliates of, The Bank of Tampa or BT Wealth Advisors. Securities and insurance offered through LPL or its affiliates are:
| | | | |
| --- | --- | --- | --- |
| Not Insured by FDIC or Any Other Government Agency | Not Bank Guaranteed | Not Bank Deposits or Obligations | May Lose Value |