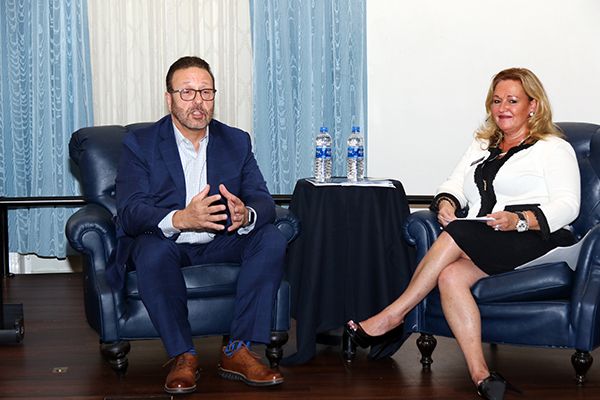 Health care: A fireside chat with Florida Blue's David Pizzo
David Pizzo brings a wealth of health care business savvy to Tampa Bay
David Pizzo brings a wealth of health care business savvy to Tampa Bay. In his current role as Florida Blue's market president for the west Florida region, he's responsible for 14 counties along the gulf coast spanning from Hernando to Collier. 
In addition to being responsible for roughly one million members for the state's largest health insurer, last year he helped bring $4 million in contributions from Florida Blue and its foundation to nonprofit organizations in Tampa Bay and Southwest Florida.  
Before he moved to Tampa Bay to become market president, he served as Florida Blue's vice president of advertising, brand management and market communications.   
In his 10 years in Tampa Bay, he has become extremely involved in the community, serving on a multitude of boards including on the United Way Suncoast executive board, as former chair of the Tampa-Hillsborough Economic Development Corporation, and on the American Heart Association Metro Board. He is also the incoming chair of the Tampa Bay Partnership.  
Tampa Bay Business & Wealth CEO and Publisher, Bridgette Bello interviewed Pizzo in front of a live, invite-only, audience at the University of Tampa.
The following transcript has been edited for brevity and clarity.
Let's talk about what Florida Blue is doing to prepare for upcoming disruption in the industry.
We've done quite a bit during the last six to eight years. We are known as a health insurance company, but when we saw that the affordable care act was on the horizon, we realized that we needed to do something different and we needed to diversify.
We were a little bit restricted in diversification as a company so we changed the organizational structure and created, a mutual insurance holding company. We created a company called GuideWell Mutual Holding Corporation, and we've taken some of our reserves and equity and pulled it up to the top and we now have five different divisions.
We also have another company called Guidewell Health where we're involved in the direct care of patients. We own about 50 clinics and practices around the state where we have physicians and health care professionals, nurse practitioners, etcetera delivering direct care. That's a growing business for us.
The latest acquisition we made a little over a year ago was a company called PopHealthCare, which is involved in population health care using data analytics and physicians and nurses that actually go to homes.
The bottom line, we diversified into a new company called GuideWell and it gives us the ability to now be a health solutions company, not just a health insurer.
Look out five to seven years and talk about what the biggest changes or disruptions in the health care industry as a whole will be.
At the top of the list is consumerism. It's something that this industry has been talking about, albeit a little slow in reacting, but it's a cumbersome industry. You would never sit down and design the industry the way it is, it's kind of discombobulated. Data doesn't connect. It's getting better, but I would say consumerism is at the forefront of most health care organizations these days.
Everyone's trying to get closer to the consumer. Why? Because the consumer really, ultimately should be making the decisions. We see it very often in our consumer plans. We have over a million members in the under 65 plans, as we call it, and they're deciding every year on what plan they're going to keep, so we have to be consumer focused.
I think another thing we're seeing is that data analytics is the name of the game. We're all becoming data companies in one way or another. We're all becoming IT companies and that's the driver, using data analytics or big data to make better decisions right down to the patient or customer level.
There's a lot more focus on wellness and prevention, and that's going to be at the core of driving the cost of health care down. As new advances happen in medicine, it's much more about prevention instead of what some people call "sick care." Whether you're talking about nutrition, fitness or exercise. Health care is getting smarter because of these things.
What does that mean from a patient experience perspective?
You're starting to see things like Teladoc. You might not actually go to the doctor. You may actually use your telephone and within 10 minutes, any of us can be on a video conference with the doctor. Now, granted, if you're having a heart attack or something serious, you don't want to be doing that, but for more routine care, you can.
I've heard John Couris, the CEO of Tampa General Hospital say in a setting like this, "You know, we can see in the future, with the 'uberization' of medicine. The patient will see you now." The old model is waiting an hour or two for the doctor to see you, but in the future "the patient will see you now."
I think on the medicine side you're going see a lot more personalized medicine. We're starting to see more and more personalized medicine in some disease categories, like DNA testing, to see what drugs or treatments may work better for one person, or another.
I think that the customer is key and we're going to see more and more of that because people vote with their feet.
Talk a little about your community partnerships. What are the advantages for the consumer and for you, as a company?
One great example is our partnership with Walgreens. We took our specialty pharmacy divisions, which is all really high cost drugs, the injectables, the things that many hope you don't need, but they're lifesaving things, and we combined them into one company and our mail order businesses. We own a, not fully, but it's owned by a number of Blue plans, a company called Prime Therapeutics, it's a pharmacy benefit manager. We combined the assets of Prime Therapeutics with Walgreens into one separate freestanding company. That partnership is going great and we get better power for purchasing.
We're a nonprofit structure. We're not publicly traded. We don't have stockholders to meet goals for. So, all of our profits go to a few things. They go back into the community in a big way through our foundation. They go into advancing our services for our members and they also go into reserves that we need, by law, to pay our bills. We can work with some of these new startups and partners to find better solutions for customers. But that foundation gives us a big opportunity to support local organizations like the Tampa Bay Healthcare Collaborative.
The opioid crisis is affecting a lot of people, on several different levels, from a mental health perspective, obviously from a Florida perspective and certainly from a health care perspective. Talk a little bit about that and what Florida Blue is doing to address it.
Our mission is to help people in communities achieve better health and this is at the forefront of that. We've got a lot of connections to behavioral health experts. I said experts, but a lot of them are key people that have experienced this directly. It's a mixture of people affected, people who have had solutions to this issue and are trying to bring it to the forefront. Our behavioral health company, New Directions, is doing a lot of work in this area as well.
We comply with all the new regulations about limiting quantities. We don't pay for oxycontin anymore, but we do pay for the chemical equivalent, Xtampza ER, because it can't be chemically altered to be misused.
So, what keeps you up at night? What should we be afraid of in the health care industry these days?
It's a highly regulated business on all fronts, which changes the dynamics of the industry, a lot of times in good ways. With the Affordable Care Act, the state was able to insure many more people. In Florida, we have over a million individual members under 65 years old in plans and we probably only had about 300,000 before the ACA launched. So, we have a big responsibility. We're the only company insurer in Florida that offers products in all 67 counties. So again, a million people, 67 counties. We have a big responsibility. So, it keeps us up just not knowing what's going to happen down the road a little bit.
What should we know about the CVS and Aetna merger?
It's going to be interesting because a retail conglomerate bought an insurance company and also, that retail entity is dependent on tens of millions of people going into CVS to get prescriptions who are not Aetna customers. So, it'll be interesting to see what competitors such as Florida Blue, Humana, United, you name it, if CVS will be in any of their networks going forward.
It will be interesting to see if CVS maintains the customer base they have, if competitors of Aetna take them out of the network. But the good news is, it just shows more innovation. A lot of these things start happening, but what you think is going to happen is not exactly how it plays out, it's the version two, version three, version four, as things get improved and change.
How is technology impacting health care?
Health care is getting smarter, and some of that has to do with biometrics, and smart devices like Fitbits. They tell you how you sleep. They wake you up, I mean there's great things happening.
Blue Cross Association has recently partnered with Fitbit to do some really exciting things for Blue Cross members across the country. Wellness programs are really advancing significantly. We are going to have monitoring everywhere. We may find health care monitoring is done in ways we have no idea of today and there's a lot of exciting work happening. ♦
About CEO Connect
TBBW's CEO Connect series is an exclusive, invitation-only, monthly event that brings together Tampa Bay area's top business leaders to meet and mingle.
The sponsors of this month's event were Walgreens and the University of Tampa.
The evening begins with a cocktail reception for about 100 guests, followed by the highlight of the event, a live interview conducted by Bridgette Bello, TBBW CEO and Publisher, and a well-known C-level executive who provides insight into their personal lives, careers and views on issues affecting the business community.
Partnering with TBBW on this exclusive event provides an opportunity to network with the area's business elite, generate new business opportunities, and increase brand awareness,
For information about event sponsorship opportunities, email Jason Baker at JBaker@TBBWmag.com