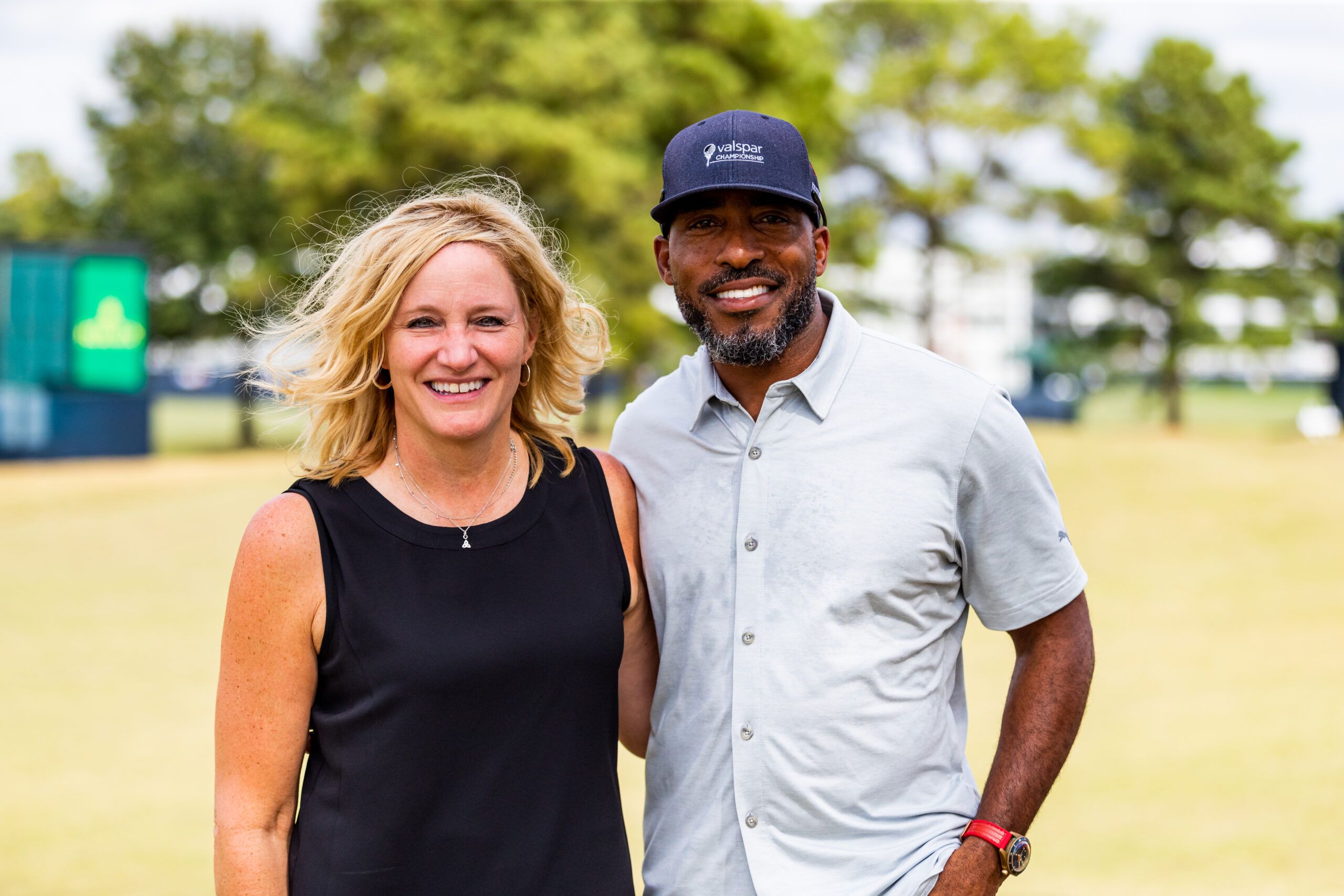 Two leaders from Valspar share lessons learned from 2021 and what's to come in 2022
Q&A with Tracy West and Ronde Barber
The Valspar Championship, Tampa Bay's PGA TOUR event, is a major economic driver to the region and generates millions in charitable contributions every year.
The tournament's charitable initiatives come through the sponsoring organization, Copperhead Charities. Copperhead Charities has generated nearly $47 million for charity since 1977, through the sponsorship of professional golf tournaments in the Tampa Bay area
Tampa Bay Business and Wealth caught up with Tracy West, tournament director of the Valspar Championship PGA TOUR, and Ronde Barber, chair of Copperhead Charities, to discuss the past year and what's to come in 2022.
Valspar might have looked a little different in 2021, but it happened. What were the "wins"
 

this year and the lessons?

Barber: Our biggest win was to actually stage the event, in the face of the pandemic, especially after being canceled in 2020. We were proud to rally our many corporate partners, thousands of volunteers and vendors to all work together to make the event happen, even with the adjustments which had to be made. The biggest lesson was the resiliency of our Copperheads, the membership organization responsible for hosting the event, and our many partners to rally together when faced with what seemed an insurmountable challenge, at the beginning of the year.
The tournament generated more than $1.7 million for charities in 2021. What were some local charities that were directly impacted?
West: Copperhead Charities was able to support more than 50 local charities this year. Some of our pillar charities include Habitat for Humanity of Pinellas and West Pasco Counties, The First Tee chapters in our region and Tampa General Hospital's Home Base Program.
How does Copperhead Charities decide who to give to, via those funds?
Barber: Some of the funds go to organizations who participate in our Birdies for Charity program, some to organizations who help support the tournament by helping in concessions and parking cars, but most organizations are chosen by our Copperhead Charities board members with input from Valspar.
Throughout the pandemic, uncertainty has made planning large-scale events even more challenging than they already are. How has the team at Valspar Championship overcome these challenges?
West: We were fortunate to have great guidance from the PGA TOUR, which was the first major pro sport to get back to competition and hosting fans. Our tournament takes place primarily outdoors and we worked to make operational adjustments to allow for social distancing and placed primary emphasis on health and safety. We also had stringent protocols related to the pro golfers, our volunteers and our patrons.
Both of you had to be leaders during the pandemic, respectively. What did you learn about leadership during the past few years?
Barber: That leadership is fluid and that you must be able to adjust to your circumstances. And it is important also to remind your team that success takes many forms and to be grateful for the impact you are able to make in any given moment versus the impact that you thought you would have.
West: That true leaders need to stay positive in the face of adversity and help their team stay nimble and ready to pivot at a moment's notice.
What can audiences expect at the tournament in 2022? Will it be back at normal capacity?
Barber: We are planning a full event, back with all of the fun competition and additional fan activities for which we are known. Our Valspar LIVE, presented by Chick-fil-A, concert will be back with country music superstars Chris Young and Big & Rich. Our Valspar Color Scouts will be handing out prizes to patrons who come dressed colorfully. We are, after all, "the Most Colorful PGA TOUR Tournament in the World." And Thursday is St. Patrick's Day, so green will be on full display. We're hoping fans want to catch some of the Final Four and enjoy a green beer, while watching the world's top golfers take on the challenging Copperhead course.
The Valspar Championship is much more than just a golf tournament. Can you share with audiences some of the other aspects of the event?
West: In addition to what Ronde mentioned, our patrons enjoy a variety of food and drink options, fun themed seating areas, interesting expo areas, an entertainment zone with lawn games, a military appreciation area, fun backdrops for social media photos and an autograph zone for kids to meet some of the pros. Plus, the people-watching is great.
What would you like the TBBW audience to know? What haven't I asked you that you wish I would have?
Barber:  The tournament is a chance to watch the best pros in the world compete in your backyard. Our field of players is consistently in the top third of PGA TOUR events. We have a variety of ticket packages available including both grounds and hospitality options, including our famous Hooters Owl's Nest and shared hospitality via a Snake Pit Hopper ticket into three venues throughout our 16th-18th hole Snake Pit. We even have a package that includes golf on the Copperhead.
West: In addition to our charitable impact, as the largest charity sporting event in our region, the tournament creates over a $50 million economic impact and drives great tourism recognition via our national and international broadcast on Golf Channel and NBC. Coming out to attend the tournament has a lasting impact on our community. ♦