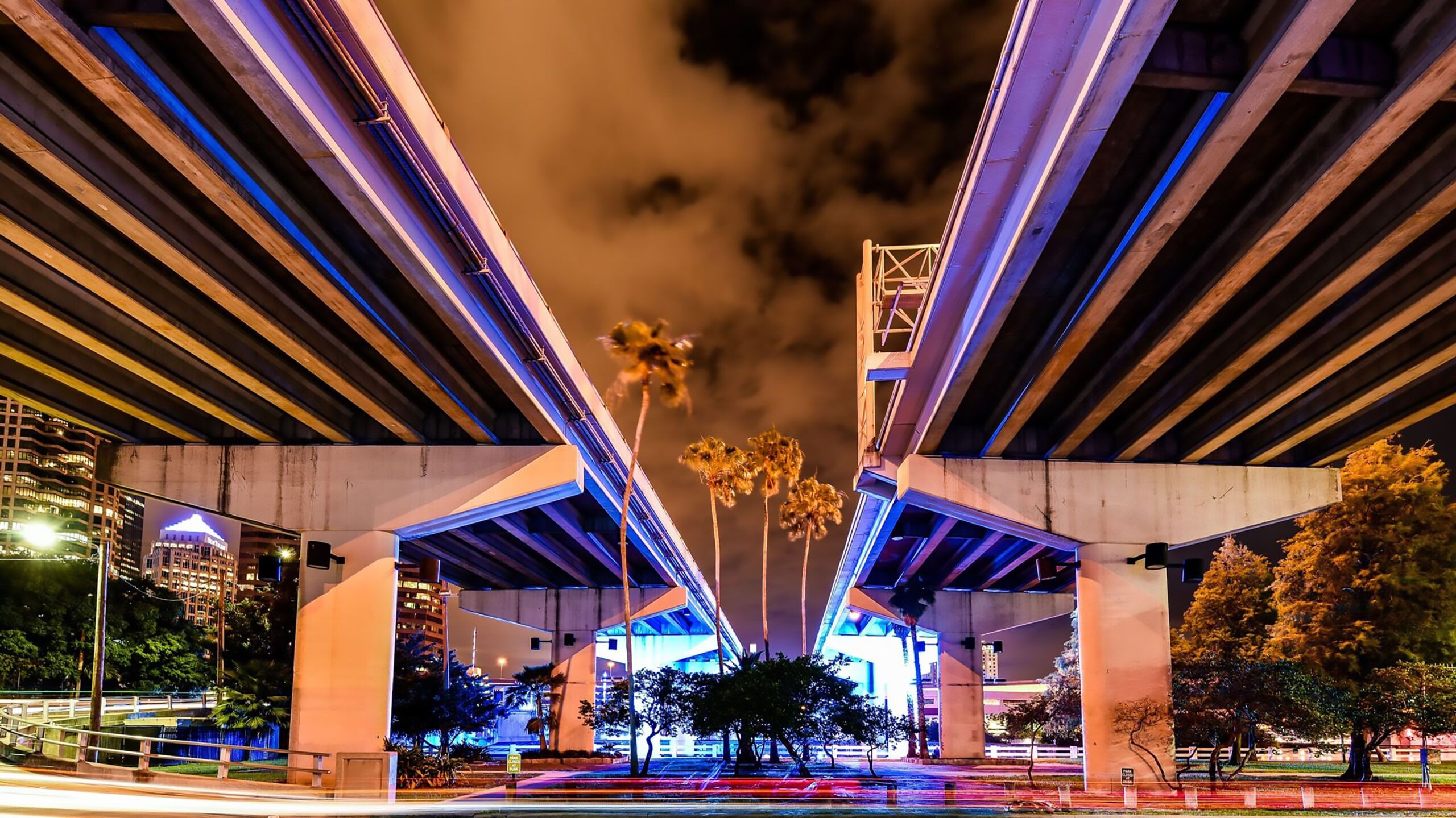 What does infrastructure need to do to keep up with Tampa Bay's growth spurt?
It's not breaking news. We are all keenly aware of it.  
Tampa Bay is one of the hottest spots in the United States. Everyone wants to be here. Businesses, tourists, visiting relatives … who can blame them? It's great here. But now that the word is out, this great place to live must accommodate these people with resources, housing and transit solutions. 
From power consumption to water resources, to Amazon delivery times—more people means more road blockages, pun intended. 
Here's Tampa Bay Business and Wealth's first edition of "Infrastructure 101" — Roads.  
***
It's such a common topic of polite conversation at this point, it's almost redundant to mention. But traffic can be quite the headache for Tampa Bay area residents. 
Ever tried to make it to a meeting, on time, heading from South Tampa to Clearwater Beach at peak traffic times? Chances are you don't even schedule those meetings, because, if you know, you know. 
It's not for a lack of trying on officials' part, and it's not that there aren't projects all across the region addressing traffic-related issues … it's just that, for every solution, more people move to the area, occupy our roads and you're back to square one: behind someone else's bumper. 
"Everything I've seen shows that growth is far surpassing even what our expectations were just four years ago," says Whit Blanton, executive director of Forward Pinellas, a land use and transportation agency. "What we're trying to do, with transportation, is speed up the delivery of transportation projects to keep pace with that growth." 
This growth has been a long time coming. It might appear it ramped up post-pandemic, but it has been building for years, says David Gwynn, district seven secretary for the Florida Department of Transportation. 
"Traffic volumes pretty much have been rising, steadily, over the last couple of decades, and when you look at the projections for growth in the region, that's not expected to slow down," he says. "We're trying to invest in a transportation network that will help to address mobility first. That comes in many forms, of course; the largest thing that people see is our roads, but we're also heavily involved in a lot other aspects, including Port Tampa Bay and Tampa International Airport." 
Agencies tasked with addressing the growing issues of Tampa Bay's transportation systems have found the challenge in the unpredictability of the regions growing population growth because of its, well, popularity. 
"The growth that I'm seeing in this whole Tampa Bay region is pretty amazing to see," says Greg Slater, chief executive officer and executive director of the Tampa-Hillsborough Expressway Authority. "When I started in [transportation] 25 years ago, you could predict, with reasonable accuracy, where your growth was going to be, but the world we're in today is really different."  
THE INN IS FULL
There are about 1.5 million people that live in Hillsborough County and about 3.2 million in all of Tampa Bay as a region, Slater says. 
Between 2010 and 2020, the population in Hillsborough County grew by about 21.9 percent and Florida's population grew by 17 percent, meaning the Tampa Bay region's population growth is outpacing Florida's. The Tampa Bay region's population growth is projected to increase by about 3.9 million by 2040. 
"I have lived and breathed traffic data for 25 years. About 50 percent of congestion is caused by, what they call, a temporary disruption in traffic and the other 50 percent is caused by the volume-over-capacity ratio traffic, meaning there's more traffic on the roadway than it was designed to handle," Slater says. 
Fender benders happen. Flat tires happen. People driving recklessly and causing an accident … these things are going to happen no matter what, but the reliability of travel times is the goal, says Blanton. 
"I think the big thing we're trying to achieve with the highway projects is travel time reliability. You expect congestion when going between Tampa and Orlando, but when it becomes a two-hour delay, or an hour of delay because there was a crash, that's frustrating. Reliability doesn't mean there's no congestion. It just means that your trip is fairly predictable," Blanton says. 
The Selmon Expressway is one of the projects Slater says THEA is proud of because it helps to combat that predictability factor for those that use it. 
"The Selmon continues to experience a growth in demand and its growth is based on one, its proximity, but also its efficiency," Slater says.  
Meanwhile, over at FDOT, Gwynn says it is hyper-focused on several major projects intended to ease the congestion and move people around more efficiently in Hillsborough County. 
In the next year, Gwynn says FDOT plans to begin construction on operational improvements on the Interstate 4 and Interstate 275 interchange, with an additional ramp lane. In addition, FDOT is in the procurement phase for a West Shore Interchange project. 
"That interchange was built decades ago and really hasn't been improved since, with the exception of some minor improvements," Gwynn says. "In order to accommodate future traffic volumes, that really became an area that we saw was going to be the biggest congestion point and it was going to really cause problems on all those facilities that lead in and out of it." 
HIT ACCELERATION
With all these projects in motion, leaders in transit seem to agree that it's time to accelerate these improvements because the region is needing them faster than anticipated. 
"I think what it's coming down to for us is the needs are coming at a much higher pace than we anticipated," Slater says. "Things that we didn't think we would need for 10 years, we need now."
It's a forward-thinking approach that requires collaboration and working across city and county lines. Most people don't care about the invisible lines they cross to get from point A to point B. They just want to get there as quickly as possible, preferably without raising their blood pressure levels. 
"The people that use the Selmon Expressway, they don't know and they don't care who owns, or operates, the roadway. They want to get to where they want to go," Slater says. 
"We know that you can never build your way out of congestion completely. You can't build enough lanes to just completely solve congestion. But what you can do is you can try to move more traffic within that environment," Gwynn says. "Transit is an Achilles heel for our region. We don't have a very good transit system, especially compared to other metro areas our size around the country." 
The overall transit model in the region is one that stands to make some improvements. 
"I look at transportation as giving people an economic opportunity for a better life. And we've invested pretty well over the years in highways, roads and things like that, for driving, but we have underinvested in public transportation," Blanton says. "There is a large percentage of our workforce that, for various reasons, affordability being a big one, that has mobility limitations … our development patterns have forced them into a region where, to do anything and get anywhere, you have to have a car. And, so, we're leaving a large percentage of our population behind." 
Why should business leaders care? Because commuters are their workforce. 
"We need to be ready to deliver some of these things ahead of schedule. We have to make sure that all ideas are on the table and all voices are being heard as we try to solve these issues," Slater says. ♦