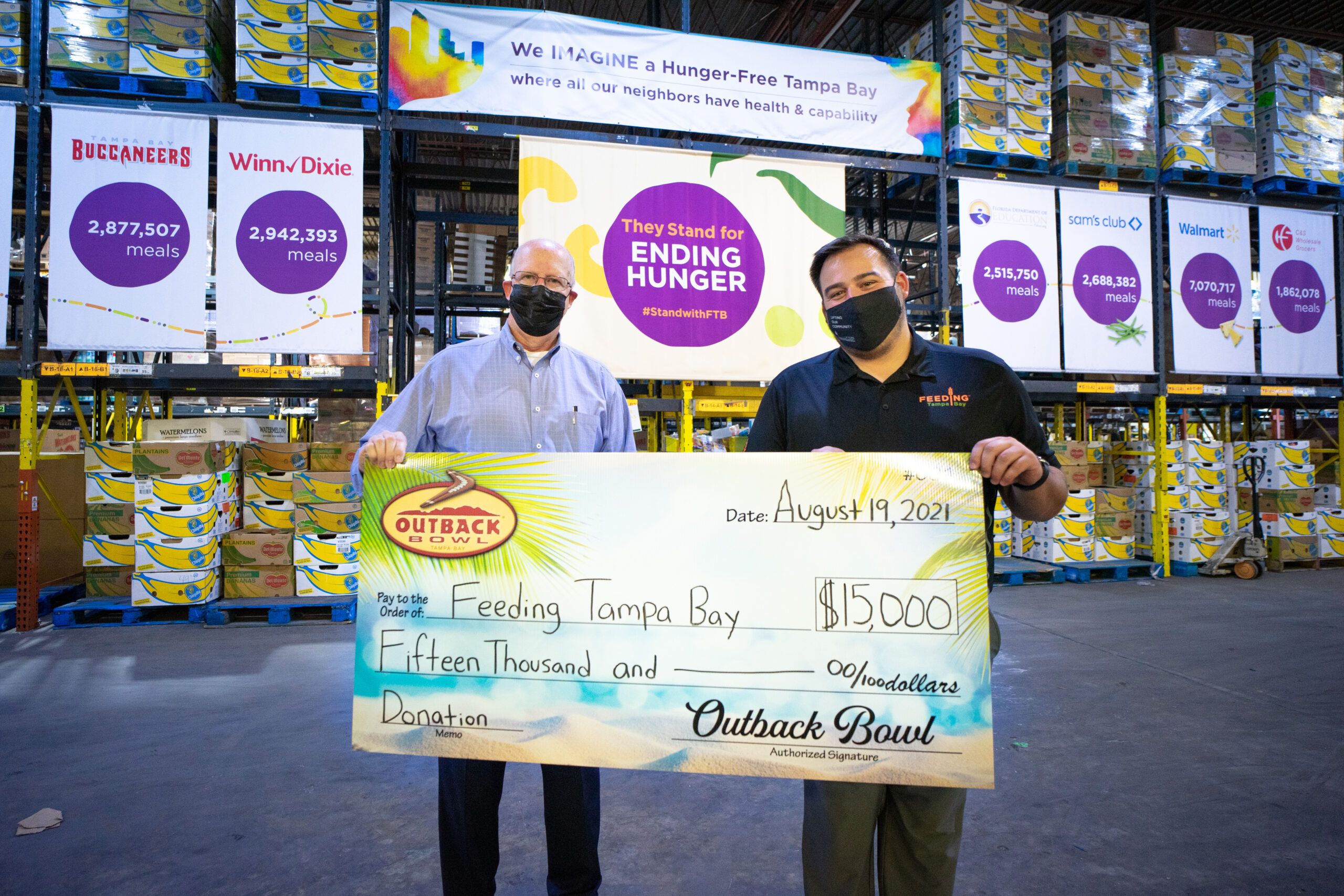 Tampa Bay charities 'win' the Outback Bowl
College football's annual game benefits more than the competing teams
It's a New Year's tradition of football—frolicking and fierce competition. The Outback Bowl, tracing its roots in the Tampa Bay area over 30 years, matches up the Southeastern Conference vs. the Big Ten, a single event to kick off the year with sport. But it's really in the behind-the-scenes impact, for local charities, where the Outback Bowl makes its most important plays.
The impact of this one-day event resonates throughout Tampa Bay, long after the winners and losers head to the locker rooms to close out the game.
As Jim McVay, president and CEO of the Outback Bowl since 1988, explains, "We're proud of our body of work. There's a lot of organizations in need, because there's a lot of people in need in the Tampa Bay area. If we can bring relief to certain organizations that's passed onto the people in need—that's something we're very proud of. We look forward to this year, and next year, and many more years to come. It's always a great feeling when you identify someone in need and you're in a position to help."
Thomas Mantz, president and CEO of Feeding Tampa Bay, one of the Outback Bowl's many partners, agrees.
"We all have the same goal and that's making sure our community is a good one and that we take care of everyone. Good community partners allow us to move our work forward appreciatively, allowing us to connect with, and to serve, more people," Mantz says. "We all know someone who is food-insecure, who struggles to put meals on the table. We enjoy being part of that relationship that starts with the Outback Bowl, comes through an organization like ours and ends up with a person enjoying a meal."
Feeding Tampa Bay offers multiple food assistance options across 10 counties, from food pantries to mobile grocery locations, benefits assistance to a job training program. Yet many in need around the Bay area are unaware of its services, yet another reason the Outback Bowl, with its high-profile platform, aids its many partners.
"We're always looking for new families to reach," Mantz says. "And the Outback Bowl's visibility can help."
As Madeline Robinson, executive director of Wheelchairs for Kids, adds: "They've been a great asset to us, and it's not just the money; it's the recognition and the validation. A lot of donors will write the check and that's it. But the Outback Bowl wants to be involved, they want to promote us. That means a lot, and it's just as important as the money. And when you're associated with the Outback Bowl, it gives other donors confidence in your organization. Being partners with the Outback Bowl is an amazing thing for any nonprofit."
Wheelchairs for Kids helps Tampa Bay area children with physical disabilities by providing wheelchairs, home and vehicle modifications and other assistive equipment to families without charge. They're gearing up for their 10th annual "Wheely Good Time," a live and silent charity auction at Ruth Eckerd Hall on Nov. 14, featuring unique, memorable experiences to bid on—including select tickets to the Outback Bowl.
Its reach extends to a wide swath of Tampa Bay area youth as well in their long-standing partnership with the Boys and Girls Clubs of Tampa Bay.
"We've enjoyed our partnership with the Outback Bowl for some 30 years now," says Terry Carter, president and CEO of the Boys and Girls Clubs, "and without the Outback bowl, we'd be in a different place. They've helped us provide service to many kids which, otherwise, we would not be able to serve."
The Boys and Girls Clubs assist some of the neediest children, and families, in the communities, Carter explains, through their core pillars around academic success, healthy lifestyle and character and leadership.
"The Outback Bowl is more than just a big game," Carter says. "It is a significant contribution to our communities as a whole."
In the last two years with the pandemic, that support was needed even more.
"In the midst of the pandemic, the Outback Bowl made a concerted effort to ensure [its] charitable giving continued uninterrupted. We were honored to be part of that. [Its] uninterrupted contributions are so appreciated because the pandemic really put a spotlight on how important what we do at the Boys and Girls Clubs is for our community," Carter says. "We address the learning loss, and learning gap, for our disadvantaged youth, those who have fallen behind in general because of lack of resources or educational support. The Outback Bowl has given us the opportunity to thrive when kids need it the most."
Carter is referring to the Outback Bowl's pledge to give $500,000 to local charities each calendar year. Despite the many challenges faced by the pandemic, even uncertainty if the game would be played, it never wavered in its financial support. It's something all its partners are grateful for, as echoed by Steve King, Meals on Wheels executive director.
"When everything first went haywire in March of last year, we were flooded with increased demand like all food-related missions. We didn't know as we entered the pandemic what it would do for our donations," says King. "As it turned out, the community as a whole responded so graciously, but at first we just couldn't predict the response. We reach the home-bound, disabled and elderly of our community with a hot meal, delivering to 800 homes a day. Sometimes our volunteer is the only face-to-face contact for those isolated in our community. The money we received from the Outback Bowl allowed us to make decisions that were not based on finances but on need for our communities."
Its support extends to the furry friends of Tampa Bay as well, as Ornella Varchi, chief development officer of the Human Society of Tampa Bay adds: "[It is] very thoughtful in [its] process. The Outback Bowl team has come in to tour the shelter and our animal hospital to really see how [its] support goes directly to impact the animals in our care. [It spends] a lot of time talking with our staff and asking questions to really understand the needs of our organization. We really appreciate the partnership and support; [it's] a wonderful organization to work with."
As Carter concludes, "The Outback Bowl is so popular, and visible, bringing commerce and trade to town at the end of the year, with 10s of thousands of people from over 40 states. And it all trickles down to various nonprofits, not just the partners. From the small businesses to the large organizations, Tampa businesses support their own charities, so with this end-of-the-year boost, companies can spread their charitable support deeper. The Outback Bowl is truly so much more than just a game." ♦