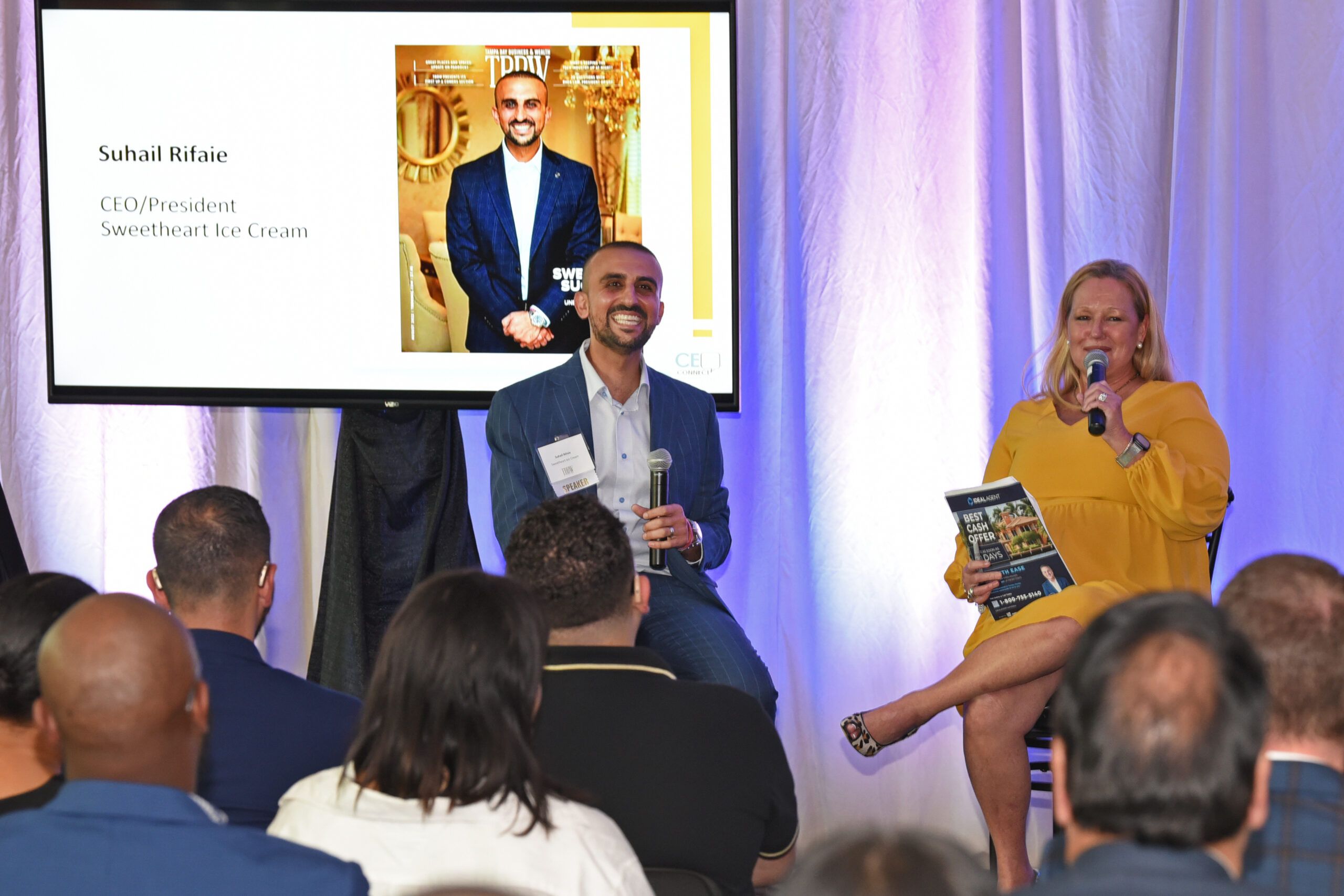 Fact-checking with Suhail Rifaie (PHOTOS)
Sweetheart Ice Cream, based in Tampa, is a distributor of major ice cream brands like Ben & Jerry's, Breyer's, Good Humor and Magnum.
You may not be familiar with the name Sweetheart Ice Cream but there's little doubt you've purchased a product from his company if you've ever bought ice cream, anywhere, on the west coast of Florida. 
In 2011, when Suhail Rifaie stepped into the role of chief executive officer, the company was a five-route company with revenue of $2 to $3 million. In 2021, it became a 30-plus route company with more than $20 million in revenue. In 2022, he projects revenue to exceed $22 million.
Bridgette Bello, CEO and publisher of Tampa Bay Business and Wealth, interviewed Rifaie in front of an audience at the Museum of Science and Industry, in Tampa. This transcript has been edited for length and brevity. 
So, tell me about your experience since being Mr. August 2022 for TBBW.
It's, honestly, a humbling experience. I'm honored, actually, more than anything. To be on the cover [of a magazine.] It's a big deal, right? Thank you for making that happen. I appreciate the support that [my family has] given me and this wonderful audience that made time to come out for me tonight. The experience has been great. 
I think I spent a few days on Facebook, a few days on Instagram and a few days on LinkedIn. So, it's been awesome, and it's just going to continue to get better for me.
We had a conversation prepping for this evening. I said, "Last question." And he said, "Let me guess, it's going to be about failures, right?" And I was like, "OK, so, we weren't really trying to focus on your failures." But yes, it is about failures. Apparently, that's been kind of rolling around in your head since we did the interview.
I let go of stuff pretty easy. This is probably one of the things I haven't let go of since we discussed it. Because you got my head spinning. And I'm like, I really want to answer it. We all live to learn and learn to live. I don't think I consider it a failure. To be honest, it's been a challenge. And I don't claim to be perfect. But I go by that motto you live to learn in order to live. And I think it's all about experiences. I've done some pretty massive transitions in my short career. And the first one was pretty brutal timing, just the whole thing, but we learned a lot. And it was a great experience. So, the next go around, I made sure we didn't make those mistakes. I assure you, we made mistakes. But we made new mistakes and learned new things.
So then, on the third transition, same story, we didn't make those first mistakes during the transition, but we made some new mistakes. So, failures are a big word, at least for me. I look at it as experiences and shame on me if I make those same mistakes again. So, that question has been stumping me. We do the best we can do and learn from our mistakes. I call it the daily hustle and the daily grind. 
So, labor, that is an issue for all of us these days, right? You recently sent us a list of positions that you were hoping to fill. Some of us have challenges because we're in a growth mode. Which one are you and how are you addressing the labor shortage that we're all facing?
We are in growth mode. It's going to go back to the commitment of us trying to keep moving and growing. We don't look back. Especially in our world, being in the industry that we're in, it's a very expensive industry. We must continue to grow. We can run as skinny as we want to run and can always cut back, but you can't be too skinny. It's a constant battle to continue to grow our top line, so we need quality people. We're not quite there yet, but it's leading toward that path where, if we pull these two triggers, we will be growing maybe anywhere from 20% to 30%. 
We are an ice cream company. We hold our name dear. But we do more than ice cream. We do food and refrigerated products. And I think I'm going to get myself into another mess pretty soon with more products, right? But it was a challenging two years and I'm a big believer of control—100% of what I can control. I don't control supply chain. I don't control the shortages. But when it comes to the labor, it was just a challenge. We lost control. Those two years were pretty brutal. So, if anyone's looking for a job, let me know. I'm not there just to fill a position just to fill it. We'll figure it out once we find the right people. We look for people that we can rely on and help us move forward.
That's awesome. We're hiring too. And it's because we're growing. That says a lot about our community and what's going on here. Your original career path was medical school, you were going to be a doctor, which, is to me, a very far cry from a CEO of an ice cream company. But what was it that was behind your desire to be in the medical field and to go to med school and to be a doctor?
So growing up I was the oldest of four siblings, I have two brothers sitting here in the front and I have a sister who's a teacher in Tennessee. Of the four, three of them are hearing impaired. By default, I developed a soft heart. I always dreamed of being that doctor, maybe going somewhere like Africa. That is what I decided to do until, one day, I took a major turn. Fast forward here today.
You keep talking about this fourth transition, which I think is upon us, but you've been very close to the vest about it. What's next for Sweetheart Ice Cream?
Hopefully you guys will see more trucks on the street. I'm working on a couple things. We'll see if they come through. I don't want to overcommit and underachieve. I want to get everything on the right path. But I'll tell you one thing, you'll break the news.
You're very philanthropic personally and professionally. I'd like you to talk about why, because we always hope that we're going to inspire other people to do the same thing to give back to this great community that we live in.
It's really important to give back, if we're able to give back. Growing up, giving back always meant writing this big check. Well, I don't think that's necessarily the case. We grew up with a modest income. I've learned that you don't have to come back with a big check. Sometimes, just giving a smile is the equivalent as giving a big check. 
The small things, whether it's the backpack drive or a toy drive, I feel any way we can give back, we should give back. 
I try to make a difference, somewhere. I think it's important to be humble. It goes hand in hand. ♦