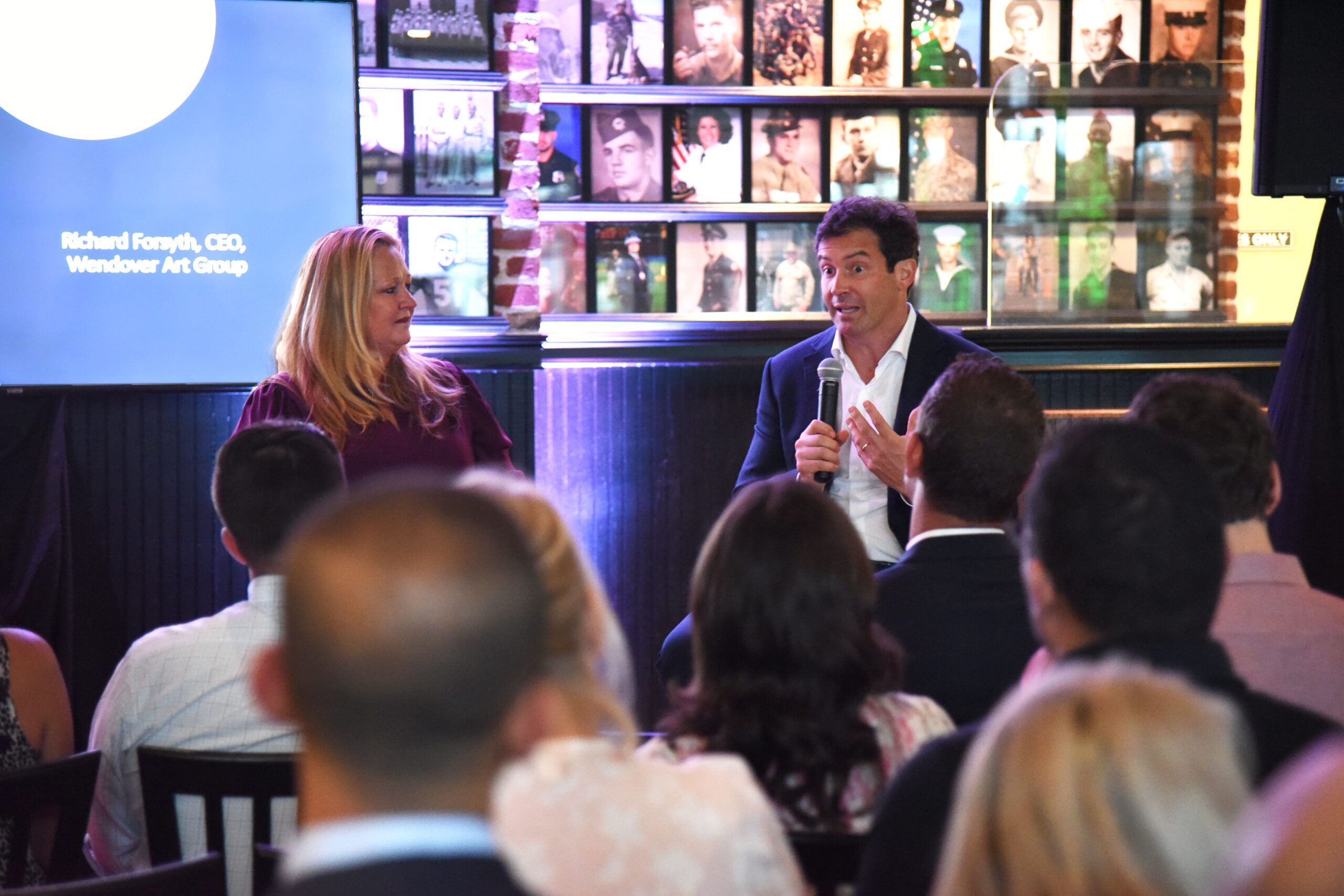 CEO Connect lends a hand: The Q&A with Richard Forsyth
Guests from Volunteer Florida and Gov. Ron DeSantis' office were on hand to help collect Donations for the Florida Disaster Fund.
Tampa Bay Business and Wealth held its 42nd "CEO Connect" at the Colony Grill, in Midtown Tampa. The number 42 is important to remember.
During the event, before Richard Forysth's interview, Tamela Perdue, senior vice president of compliance with Sunshine Health and board chair for Volunteer Florida, addressed guests and encouraged those in attendance to make donations for those in Florida affected by Hurricane Ian.
If you are interested in joining the cause, you can go to www.floridadisasterfund.org or text DISASTER to 20222. Please make sure to include in whatever amount you donate 42. For example, if you donate $100, make it $142. This will allow the fund to track how much our TBBW ecosystem raises. We have an opportunity to have the total amount matched so keep the donations coming in. 
This transcript of Forsyth's live interview with Bridgette Bello, CEO and publisher of TBBW, has been edited for length and brevity. Photos from the event can be found here.
Tell us what it's been like being on the cover of TBBW. 
You guys have tremendous reach. I wasn't as familiar with the magazine, but this is a great publication. I got so many phone calls … going back all the way to high school [friends]. 
In your interview, you said that entrepreneurship is a selfish game. Can you elaborate on that?
It can be selfish, right? I'm big about having goals, and having a vision, but doing things in certain timeframes as well. I started out doing investment banking and then I worked in private equity, but I had a dream to go be an entrepreneur and build a business. 
I had some time to learn and make mistakes versus going to business school. It's not 9-to-5; it's around the clock, whatever it takes, all day, every day. At that point in time, it could just be about me. Now I'm so blessed to have a beautiful wife and our kids. I'm pretty lucky.
[Entrepreneurship] is not a perfect balance. You're going to miss some stuff. 
Speaking of your wife, in your interview, you said you were married after, I think, three months. 
I had moved down [here] from Chicago and worked around the clock. When I moved here it was not the Tampa that we have today. I didn't really know a whole lot of folks. I would leave on the weekend. Working in finance, I had a bunch of buddies in New York. I went up there for St. Patrick's Day and met my wife. 
And how long have you been married? 
Fourteen years. 
I think it plays into the whole risk in being an entrepreneur. When you know, you know, and it feels like you're doing something right.
I say this to folks. I forget what the quote was about, but, "It's not my job to inspire someone to be an entrepreneur," but I do talk about it. The whole family must be on board. Everyone's got to be in it. 
In a world where most conversations we have with employers the talent supply issue comes up. You had a different view on talent acquisition. 
We're not the only company to say this, certainly. But we talked a lot about leadership and the need to develop talent. When you go back to company culture, there are different levels of challenges to recruit. We have such a diversified company in terms of, yes, how we look at things but also job function. 
One of the biggest areas is being able to recruit from a shop floor standpoint and getting consistent dependability. We've been very fortunate in that area. 
We're a manufacturer and we're a creative company. We must collaborate. We must be in the office together. I wouldn't say it's difficult, but we're just very specific and direct that, hey, we're all going to come in ad collaborate and win as a team, together, in person.
You also talked about your spending during COVID. And again, I might get the number wrong, but l think it was like, $40,000 a month on testing for people?
We were clearly focused on it, like every other company. We tested at least twice a month. We helped get everyone who wanted to get vaccinated. 
You also have a flag football team that practices at your house. 
I grew up playing team sports. I think it's a powerful thing when you're with a team and at the end of the day, everyone cares most about winning, and are willing to do whatever it takes. We're committed to that and the end goal, together. 
You said something about investing in [your employees] and helping them grow to the position that you believe that they could be in as long as they have the right culture and the right attitude.
That goes back to the talent acquisition part. I think it's always hard to get great talent, particularly now. They're pretty hard to find. And they're expensive, right? I think mindset can be a mixed bag.
We like for this to be a learning opportunity for people in the room. What is the best piece of business advice that you were ever given that you would like to share with the people in this room?
Hire slow, fire fast.  ♦ 
Transcribed by Kelsey McDermott | Photos by Tacy Troncoso