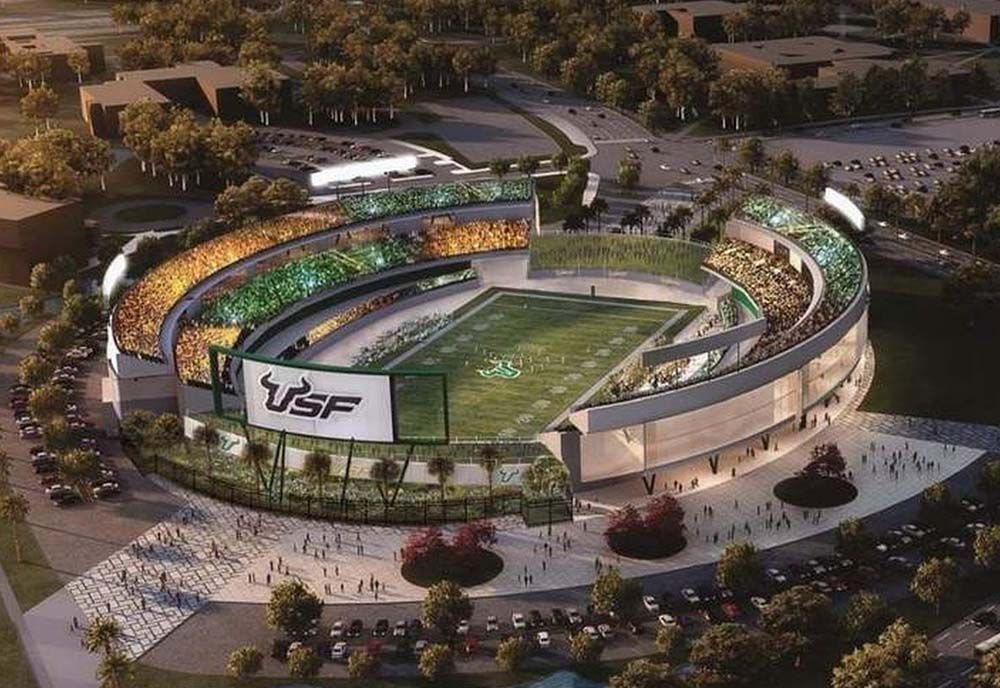 Bulls nation one step closer to stadium
It was during last September's groundbreaking ceremony for the University of South Florida's practice facility that Will Weatherford discussed the desire to move ahead with an on-campus football stadium.
"Frankly, this community, the students and the athletes deserve a stadium on their campus," said Weatherford, who serves as the chairperson on the university's board of trustees, and who was a member of the Florida House of Representatives from 2006 to 2014. "We can do it and we are going to do it. I think you will see Bulls Nation rally around it. It is an idea whose time has come."
On Tuesday, the idea got one step closer to becoming a reality when athletic director Michael Kelly and USF Foundation CEO Jay Stroman, co-chairs on the stadium planning committee, recommended to the board a site for the stadium.
Sycamore Fields, located adjacent to the football practice fields and used for intramural athletics, was the recommended site.
The board is expected to render its approval following analysis that will include land assessment and traffic flow to what would likely be a venue that seats roughly 40,000.
"The impact of the University of South Florida's on-campus stadium will be transformational in ways that extend well beyond football," said Rhea Law, USF's interim president, in a statement released by the university following the site recommendation. "Choosing a location with strong connectivity to other important areas on campus supports our vision for a project that helps drive the overall university experience."
Four other locations were being considered: the southwest corner of campus near Bruce B. Downs Boulevard and Fowler Avenue, intramural fields near Juniper-Poplar residence hall, Museum of Science and Industry on Fowler Avenue and Fowler Fields, which are next to the Patel Center for Global Solutions.
During a press conference in January, Kelly said that it was his desire to have the stadium ready to go for the 2027 season opener against Miami.
"That would be a pretty cool opening day for the stadium," he said. "In my mind, that's what I am thinking. If they get it done faster, my bosses will be happier. If it takes a little longer, that's understandable."
Also on Tuesday, it was announced that longtime USF supporters and donors, Carol and Frank Morsani, gave $5 million toward the stadium. The football practice complex, which bears their names, opened in 2011.
"An on-campus stadium elevates not only our athletic programs, but our entire university," said the Morsani's, in a statement. "We look forward to others joining us in making a financial commitment that will help make this project a reality."
The are no specific stadium cost estimates at this time. According to the university's sports information department, project costs should come into focus during the summer when ongoing assessments into the overall financial scope (annual revenue, potential sources of financing, etc.) are expected to be wrapped up.
The stadium would serve as a centerpiece for an athletic complex that would include the $22 million indoor practice facility, which is expected to be completed in August.
Another project, a 160,000-square-foot football operations center that would include a weight room and offices for the coaching staff, would be located adjacent to the stadium and practice facility.
Kelly noted last September that $10 million to $12 million in funding was raised for the center, though no additional has since been acquired.