The Tampa Bay area is an economically robust epicenter at the intersection of health care, technology and business. This evolution of the area is led by exceptional leadership in these industries with men and women that possess a dedication to transforming the community.
AdventHealth is a faith-based, not-for-profit health care system with a mission of "extending the healing ministry of Christ." It is a brand that empowers some of the nation's brightest medical minds to make lifesaving breakthroughs with surgical pioneers, scientists and researchers using advanced technology to deliver whole-person care. 
National statistics show that women only hold about 10% of top executive positions. AdventHealth's west Florida division is ahead of the national trend with four of its Tampa Bay hospitals being led by female chief executive officers.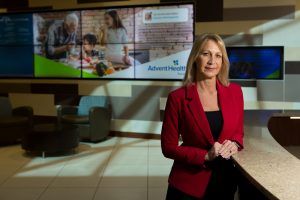 Meet the four AdventHealth "Women of Influence:" Denyse Bales-Chubb, president and CEO of AdventHealth Tampa; Jennifer Wandersleben, president and CEO of AdventHealth Heartland Region; Amanda Maggard, president and CEO of AdventHealth Zephyrhills and AdventHealth Dade City; and Erika Skula, president and CEO of AdventHealth Carrollwood that are directing some health care innovation. 
In her three-year tenure as the president and CEO of AdventHealth Tampa, Bales-Chubb has overseen the expansion of the hospital with the completion of one of the largest surgical expansions, the Taneja Center for Surgery at AdventHealth Tampa. The state-of-the-art expansion is six stories tall with nearly 100 new private, patient rooms and 18 operating rooms. Furthermore, she led the renovation of care for the community with improvements of an offsite emergency department in Brandon. Now, the highly ranked facility receives top patient satisfaction scores while providing much-needed access to high-volume emergency care in the southeast Hillsborough market. Future plans for AdventHealth Tampa include expanding advanced, comprehensive cardiovascular, neurosciences, digestive health, pediatrics and oncology services.
"I believe that diversity in leadership is important to intertwine knowledge and experience. That's what helps drive change. Women bring determination and attention to detail to the table. Being a woman in leadership in Tampa Bay has influenced my career by forming relationships with so many creative, and innovative, individuals. Tampa is a dynamic city with so many opportunities. You want to be a part of that type of community," Bales-Chubb says.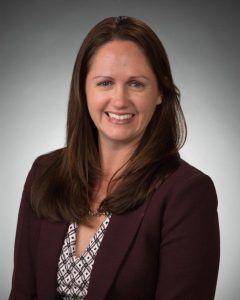 Wandersleben, the president and CEO of AdventHealth Heartland Region, a newly formed region in the west Florida division, recognizes that it is an exciting time to be at AdventHealth. The Heartland region is rapidly expanding under AdventHealth's female leadership. It is composed of five hospitals, three urgent care locations, home health and additional access points for care in Polk, Highlands and Hardee counties. 
Before joining AdventHealth West Florida Division, Wandersleben led multiple multimillion-dollar capital investments to create jobs and expand care to the community throughout Central Florida. She also spearheaded a companywide initiative to increase access to mental health for patients and employees, a valuable service for the community during uncertain times. 
"It is critical that health care leaders are connected to the community they serve and drive relevant change. As a female executive, I enjoy collaborating, listening and working with teams of people to transform health care," Wandersleben says. With a commitment to cross-functional collaboration, her vision for the AdventHealth Heartland Region is to make it easy for the community to get the right care at the right time.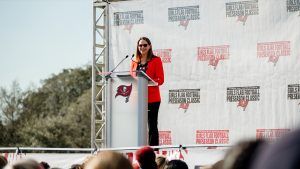 For AdventHealth, female leaders' concern for care extends not only to patients but to their own families. Since 2017, Maggard, the president and CEO of AdventHealth Zephyrhills has struck that balance with grace under pressure.
"One of the aspects of my role that I enjoy most is the opportunity to mentor and help develop young leaders. As a wife and mother of two boys, the question I am most often asked by women early in their careers is if it's possible to balance family and a demanding job. I certainly don't do it perfectly and some weeks are very challenging, but I hope that my example will inspire young women to not take themselves out of the game before they even have the opportunity to work in a senior role," Maggard says.
Under her leadership, AdventHealth Dade City and AdventHealth Zephyrhills in Pasco County have substantially grown in clinical quality, patient experience and financial performance of the hospital. Other leadership highlights for Maggard include receiving the only five-star rated skilled nursing unit award from the Centers for Medicare and Medicaid Services for AdventHealth's Dade City's transitional care unit, being awarded the Leapfrog Organization's highest honor as an A-rated general hospital for patient safety and experience and helping lead the AdventHealth systemwide COVID-19 incident command center in 2020.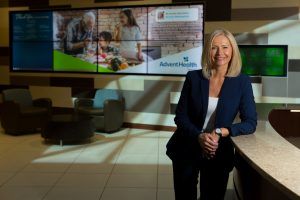 In the past three years, Skula, the CEO of AdventHealth Carrollwood, has exhibited the transformative power of female leadership. Under her guidance, the hospital has seen substantial improvement, and expansion, including a 35 percent increase in growth. AdventHealth Carrollwood has been the recipient of multiple awards as a leader in patient quality and safety, as well as national recognition for surgical expertise. Skula serves in a leading role on the Women's Leadership Forum at AdventHealth and as the executive sponsor of AdventHealth Carrollwood's diversity, equity and inclusion council—committees that support the foundation of the healing mission of AdventHealth.
"The key to being a successful leader is to surround yourself with a complementary team who holds the same morals and values as you and then empower them to carry out the mission of your organization. AdventHealth has given me that opportunity and has truly provided an unbiased career path for women in leadership. I am blessed to work for this organization in Tampa Bay," Skula says. 
As evident by the accomplishments of these women, AdventHealth empowers female leaders to set the standard for whole-person care, holistic in approach yet nimble in innovation, to make a profound impact on the well-being of the Tampa Bay community. ♦