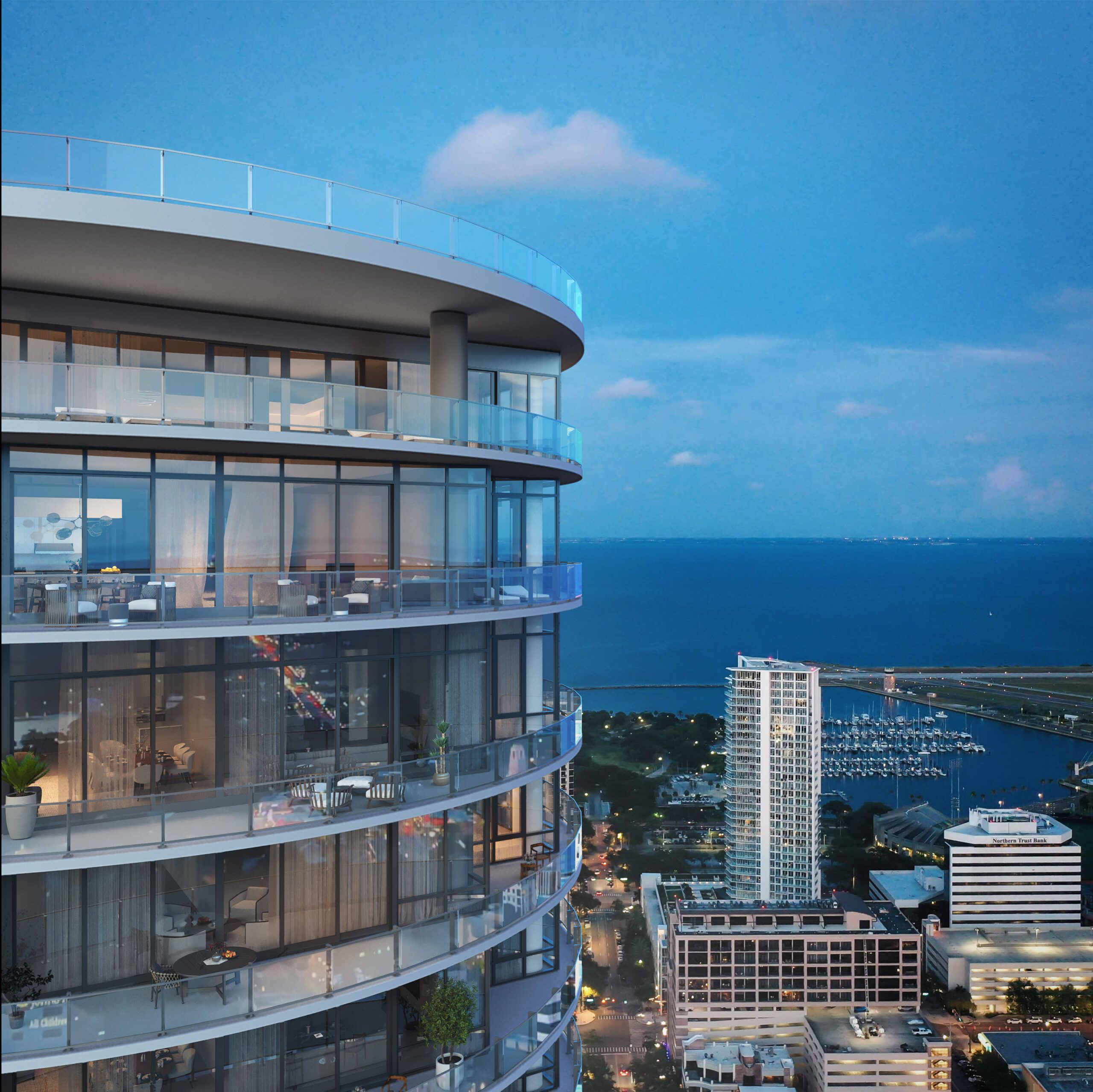 Tallest residential building on Florida's Gulf Coast offers luxury living in the sky in downtown St. Petersburg (RENDERINGS)
St. Petersburg has emerged as a cultural waterfront haven, a destination for residents, and visitors, to enjoy year-round. As the city becomes more established, prominent additions to the city's skyline are emerging.
Award-winning, global architecture firm Arquitectonica is introducing The Residences at 400 Central, a 515-foot tall, 46-story mixed-used tower that stretches a full city block.
400 Central is anticipated to be the tallest residential tower in St. Petersburg, bordering Central Avenue, First Avenue South, Fourth Street South and Fifth Street South. The tower will include 301 luxury condominium homes with an assortment of one-to-four-bedroom floorplans, custom penthouses, a rooftop observation lounge and a community within a community.
The 35,000 square feet of amenities will include shops, restaurants and streetside cafes to enhance the residential experience amidst the eclectic energy of downtown St. Petersburg.
Florida-based Arquitectonica is a major presence on the international stage and is recognized for its innovative, sophisticated designs. It collaborated with the developer Red Apple Real Estate to create 400 Central. The architecture firm has offices in Miami, West Palm Beach, New York, Los Angeles, Paris, Hong Kong, Shanghai, Manila, Lima and Sao Paolo.
Past landmark projects included the Microsoft Europe Headquarters in Paris, the Bronx Museum and Westin Times Square in New York, Festival Walk and the Cyberport Technology Campus in Hong Kong and the International Finance Center in Seoul.
Bernardo Fort Brescia, founding principal of Arquitectonica, studied architecture and urban planning at Princeton University and received a Master of Architecture from Harvard University, subsequently founding the firm in 1977. He is known as one of the pioneers of globalization in the architecture profession. For decades, the renowned architecture firm continues to push the limits of design with its innovative use of materials, geometry, pattern and color to elevate a signature brand of humanistic modern design around the world.
The design intent of 400 Central pays homage to its coastal surroundings.
"Architects always think, first, about how to place the building on the site and what makes sense for the neighborhood with the views," says Fort Brescia. "We think in terms of the views because people moving from a house into a high rise have the sky as their backyard. They are going to discover the serenity that arrives, the peaceful feeling of seeing the sky and the ocean. So, we placed the tower carefully, studying the angles that gave us the best views. And that's why we rotated the tower to the coastline and the water."
For Fort Brescia, the inspiration for 400 Central was the flavor of a waterfront resort, and a little bit of a sense of the nautical vocabulary. The building has simple, and soft, pure lines reminiscent of naval architecture blending with the marine surroundings of St. Petersburg.
"One of the questions we had during the design process is, 'How do we fit the building to what is around us?' "Fort Brescia says. "We thought about how we can contribute to the urbanism of the life of downtown St. Peterburg. And the best way we can do that is by lining the shops and occupied spaces on the ground floor, facing Central Avenue restaurants. It worked out perfectly to enliven Central Avenue in a natural way."
Arquitectonica and Red Apple Real Estate hired restoration crews to protect, repair and return the classic McClintock pedestal clocks, a nostalgic urban monument that stood for years, at the corner of Central Avenue and Fifth Street in downtown St. Petersburg. Time will no longer stand still as the non-functioning clock was removed from the site to be restored to full working order and reinstalled as part of the beautification of the public, pedestrian area of the site.
John Catsimatidis Sr., founder of Red Apple Real Estate and principal of the development company sponsoring The Residence at 400 Central said, "We look at this clock and see the reflections of the charm, and character, of downtown St. Petersburg's wonderful sidewalks and avenues. We are making sure to bring in experts with vast experience so this clock can stand, again, in a special place beside the tower."