Graduating from college during the Great Recession of the late 2000s was a daunting experience, indeed. It was hard for young graduates to be picky about their career offerings—there weren't very many.
It was the same for Ali St. Cyr, now broker and owner of Tomlin St. Cyr Real Estate Services, in Tampa.
Like a lot of young professionals during that time, she wasn't exactly sure what she wanted to be when she grew up and was grateful to have a job at all.
It wasn't until a fateful dinner with her now-husband that she realized there was another path she had yet to walk.
The timing was right for her and her family. Both parents were in a transition period in their own careers and Tomlin St. Cyr Real Estate Services was born.
Mom, Holly Tomlin, ran her own business for 30 years. Dad, John Tomlin, was preparing to retire after a long, and successful, career as president of AAA/Auto Club South.
Together, the trio, banded together to launch the real estate firm of St. Cyr's dreams.
Not to discount Dad's role in the business but this is the Mother's Day issue, so TBBW sat down with Mom and Daughter to hear their story. How a family business, and family dynamics, ultimately play in their day-to-day and what it takes to run a successful, multigenerational family firm.   
THE TOMLIN STORY
Holly Tomlin was born, and raised, in Cleveland, Ohio.
Her father was a hardworking man who "could fix anything." Her mother worked in the home and never drove a car. As she describes it, it was a slower, more old-fashioned, lifestyle.
"[My mother's] domain was in the kitchen. It was the best meals, best memories, the smells and all the things that go along with it," Tomlin says. "She wanted to make people happy through the kitchen, and she did."
Ultimately, she landed at Standard Oil, in Cleveland, not knowing that is where her life would forever change. Standard Oil was where she met John—at the copy machine, no less.
Tomlin worked in the personnel department, or human resources, which had about 200 people in the department. Her main responsibility was to hire temporary employees.
"I always knew [John] was the guy. I always knew he would be a great father. He was the smartest man I knew and still is," she says. They've been married for 40 years.
"I didn't have my degree when I married John. But he went to Wharton, which is a very fine school, so I felt like I needed to get my degree as well and he was very supportive of that," Tomlin says.
She graduated from Baldwin-Wallace College in Berea, Ohio.
John moved from Standard Oil to Progressive Insurance, where he eventually was transferred and given the task of helping run its Tampa office.
Tomlin struggled to find work in the Tampa market, in her area of expertise, comparable to what she was making in Cleveland, so with the support of John, she established her own business, Tomlin Staffing.
"I never envisioned myself owning a business. But [John] encouraged me, and I thought, what is the worst that can happen? I go out of business?" Holly says with a laugh. "John really inspired me, pretty much, on every front of everything I've done since meeting him."
Not long after establishing Tomlin Staffing, John and Holly welcomed Ali to the world.
"I felt like once Ali arrived, and I knew that I could do the business and have a family at the same time, it was the most confident I've ever been and the most wonderful I've ever felt," Tomlin says.
ST. CYR'S STORY
Ali St. Cyr is the eldest of the Tomlin children. She has two younger brothers.
"My parents were super supportive," St Cyr says. "Even with Mom running her own business and Dad having a very important career. They were always there. At soccer games, Dad was always in his chair doing paperwork on the sideline, but he was present."
It's evident that family time is important to the Tomlins. With two, successful, working parents and three children, it was a blessing to have the opportunity to spend quality time together.
"What was important to our family were things like vacations. When we were together and we were able to be close as a family," St. Cyr says. "Even as adults, we have a tradition that when you graduate high school, you go on a trip anywhere you'd like with Dad and when you graduate college you go anywhere, in the world, with Mom."
St. Cyr and her father traveled to Kenya and she went on a cruise with her mother visiting Greece, Italy, Egypt and Israel.
"I feel like that was a defining moment in both of my relationships with my parents, because just the two of you for that long, experiencing something together, that's where a friendship is really born when you're able to just be the two of you," St. Cyr says.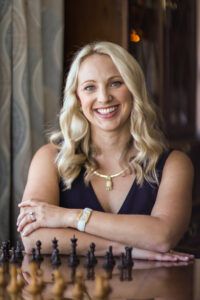 As time went on, Holly and John decided they wanted to help their children create a legacy through their own business ventures. Being two savvy business people, they could appreciate what having that opportunity could do for their children's lives.
For St. Cyr, eventually, it became real estate.
In 2015 Tomlin St. Cyr Real Estate Services incorporated, and, in 2016, it opened its doors in Tampa.
For the Tomlins, it was just perfect timing.
John was ready to retire from Auto Club South, after being there 26 years and overseeing a merger with another AAA club, and Holly was presented with the opportunity to sell her business, which is every business owner's dream.
It was a difficult time for St. Cyr, because the company she worked for had a massive layoff, and she really wasn't sure what her next move would be.
A few weeks before that happened, St. Cyr was out to dinner with her boyfriend, now husband.
"He asked me a question. It was such a simple question. But he asked me if work was good. I told him it was. Then he asked me, 'Are you really happy?' " she recalls. "I started crying. It was so embarrassing. Why was I having that weird emotional reaction? We're out to dinner and everyone is looking at us."
She adds that she loved the people she worked with, but the job itself wasn't the best fit for her. 
"Most people are not given the opportunity to step back and think about, what am I good at? What do I really want to do? You get out of college, or high school, you get your first job and then you just start running and just keep trying to climb, but you're only climbing from the path that you first entered into, so you get caught in a spot that maybe isn't the best place for you," St. Cyr says.
She decided to give the real estate idea a whirl. Her father, being an "education junkie," as she describes it, also decided to get his real estate license alongside her.
The first year was a struggle, she says. But in the second year, things started to take off.
"It wasn't until I started working by referral that things really clicked," St. Cyr says. "I had a strategy and, suddenly, things just started clicking, because before you're just chasing anything anywhere that is commissioned. And then, things kept doubling year after year.
By year three of St. Cyr's real estate career, John was ready to retire and Holly was transitioning away from her company.
They had a dream of starting a company with one of their children and it all aligned at one time," she says.
In the five years it's been in business, the real estate agency has done very well for itself.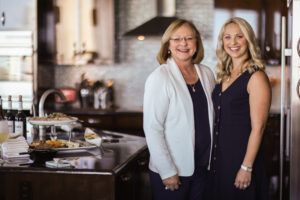 Tomlin St Cyr Real Estate Services is one of the fastest-growing brokerages in the Tampa Bay area for home sales, at 59% in growth in 2020, according to data from Stellar MLS, pulled from Hillsborough and Pinellas Counties. The brokerage produced $107 million in sales volume in 2020.
"We've grown very fast," Tomlin says.
"What our company really stresses with the agents that we recruit is that you are handling one of the largest financial transactions of people's lives. And getting your license does not prepare you to do that," St. Cyr says.
COVID HITS THE MARKET
The global pandemic of 2020 closed doors, and sent people home, for months —  all around the world.
"It has certainly catapulted us into a whole different realm of competitiveness," St. Cyr says. "It got really quiet in March and April [of 2020]."
Holly adds, "Scary quiet."
But that quickly changed as people accepted their stay-at-home, work-from-home, reality.
"I think once people came to that realization that [the COVID pandemic] was going to be more than just a couple of weeks, that this is a lifestyle for a while, they began to ask themselves what they wanted from their homes?" St. Cyr says. "The needs of a home completely changed, almost overnight."
Now Tomlin St. Cyr buyers are asking about two home offices, a resort-style pool – basically the ability to never leave their homes. And, in some cases, it's given people pause as to why they need the amount of size they have or why they might need more. "We don't call it downsizing, we call it resizing," St. Cyr says.
People wanting to upgrade, or change, homes, realizing they can work from anywhere, leads to a unique problem for real estate agencies in the Tampa Bay area—who wouldn't want to live here?
Interest rates are low, and it's a seller's market, but inventory is low as well, which is creating a problem for homebuyers and real estate agents alike.
"Even before COVID, inventory was a problem. It's just, now, even more of a problem," St. Cyr says. "Almost every transaction that I do has multiple offers, it's insane. Many are over asking price. So, it certainly has changed the way that we negotiate. It's not all about price.
"What's important to my business is really learning about the seller and what's important to them—and the same for the buyer."
CAUSES OF THE HEART
Tomlin and St. Cyr are generous with their charitable endeavors. For St. Cyr, being involved with Big Brothers Big Sisters, as a "big," is the volunteer work that touches her heart the most. For six years, she's been a big and her only birthday wish this past year was to have her "little" be able to join her, and her family, for her birthday dinner. St. Cyr's husband also mentors with BBBS. It isn't unique to them; married couples can be bigs, together.   
"We wanted to do something together and we wanted to do something where we could actually see the results of our labor," St. Cyr says. "We used to plan these huge, lavish days for [our "little"], but he doesn't care about any of that. The most memorable days have been when he just wanted to ride a bike or play football. One-on-one time is the most important thing to him."
Tomlin has supported several organizations in the Tampa Bay area for years. She's a charter member for Crisis Center of Tampa Bay's Women Leadership Council, a charter board member for Tampa General Hospital Medical Group, as well as a charter member of the women's leadership organization for the TGH Foundation executive board. She currently is the incoming chair of the Boys & Girls Club of Tampa Bay Foundation.
FAMILY TIES
Working in the same business as your family can cause unique challenges in the workplace and at the holiday dinner table.
Paying close attention to communication styles, especially in front of other employees at the business, is one way to prevent the environment from getting awkward.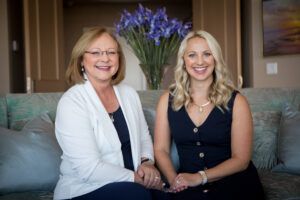 "I would also say we have to wear different hats," St. Cyr says. "In starting a family business, my dad set these boundaries at the very beginning, which we made fun of him at first, but now I completely respect why we had to write out our roles and responsibilities."
While working with family in a business can have challenges, it also has some amazing perks when done right.
Both Tomlin and St. Cyr agree, they continue to learn from each other and have fun.
"As a kid, I didn't have the respect for what she had created, and done, until I worked with her and saw the power of her influence and her network," St. Cyr says. "She's really good about making people feel special and remembered."
Tomlin agrees and radiates with pride when speaking of her daughter.
"Working with my daughter is a dream come true. She has high mastery of her craft and industry, and has done well. She loves what she does and it shows," Tomlin says. "She loves everything about the process, especially when it comes to protecting her clients from costly mistakes. She has taught me a lot and I hope that I, too, have imparted some useful business experiences that she has learned from. I could not be prouder and happier for Ali's success."♦