Valeri Marks has run eight businesses in her career, including in the telecom, data communications, online real estate, recruitment and health care industries.
She prefers to go by Val, is passionate about mentoring, and philanthropy, and speaks openly about how much she loves her family and her amazing business network.
Marks has been the CEO of Medical Technology Associates for six years, which is on track to do $24 million in revenue this year.
Usually, it would be time for Marks to move to the next great project, but she's not this time. Instead, she says, she's really happy standing still for once in her professional career. There's more to achieve.
ELWOOD
Born in Columbus, Indiana, the oldest of five children, Marks learned early on the value of hard work.
"My parents didn't have a lot. In those days, most mother's stayed home, but my mother worked as an x-ray technician…because of her, I am the leader I am today," says Val Marks.
As the oldest, when Mom would be working, Marks was in charge, which is where she flourishes.
"I learned early on that if you want it, you have to make it happen," she says. "There was no silver spoon. We all shared the car and you were lucky to get money for anything."
When Marks was 13 years old, her father walked out on their family.
"My mom was left to raise five kids by herself. She has this full-time job and she's on call in the evenings…babysitters are expensive, so I found myself being in charge," Marks says.
Marks didn't know exactly what she wanted to be when she grew up, but she knew one thing: "I wanted to get out of Elwood, Indiana," she says.
Thanks to a great math teacher, she found the road out.
"I had a great math teacher in high school who always believed in me and pushed me to do the best that I could do, and I loved math," Marks says. "I traveled to Franklin College for a math competition. When it came to go to college, that's where I went. I got close to a full ride thanks to my academics and due to my family's financial situation," she says.
She graduated as valedictorian in high school and summa cum laude from Franklin College.
"I worked really hard in college. I became president of my sorority and president of student government. I just got involved and wanted to lead," Marks says.
LOVE BOAT OF THE BELL SYSTEM
Marks received an internship opportunity with Indiana Bell, the telephone operating company for Indiana, and enjoyed a very successful long-term career with what later became AT&T.
"When I got into the Bell system, they took all of their young college hires and  sent them to Lisle, Illinois for training," Marks says. "It was just like college, but with an expense account."
As can be expected, taking a group of young people and putting them together for an extended period of time, love connections were formed.
"They called it the Love Boat of the Bell system," Marks says as she laughs. "It was a month on, a month off, etc., spanning five months total. That's how I met Tim."
Tim Marks is president and CEO of Metropolitan Ministries.
At the time, both Tim and Val were young engineers. "We met in February and got married in October," she says. "Tim will still say to this day, 'We met and I knew I would marry her."
When they weren't in Lisle, Tim was in Michigan and Val was in Indiana.
"When training ended, we just felt like we couldn't be a part. We both filed for transfers. I moved to Michigan and lived happily ever after," she says.
THE ROAD TO TAMPA
The road from Michigan to Tampa had  few pit stops along the way.
"In the Bell system, every 18 months to 24 months, they would move me to another department as a part of the leadership development program…I got to find what I loved doing and what I didn't enjoy as much," Marks says. " I learned that engineering wasn't my thing. I was missing that creative side and I'm more of a people-person. Then this internet thing happens. The president of the company called me in and said I think we might need to be in this internet thing. We're not quite sure what it is, but we're going to give you a budget and set you up like a startup. Go build it and we'll just see."
This shifted the entire trajectory of Marks' career.
"When I had the opportunity to build the Internet division from scratch, this whole entrepreneurial side of me kicked in," she says.
Bell ended up merging with another company which later became AT&T. This led to another opportunity for Marks.
Marks' Midwest internet was merged with the Southwestern internet team and chose Marks to run the merged company. She was relocated to Austin, Texas.
"The new job required in extensive travel," Marks says. "At that time, taking the position wasn't right for my family."
Instead, Marks took a job with an emerging startup company in Boston.
"The move to Boston was the first big move for the family," Marks says. "It opened many doors for all of us and exposed me to a great network of investors."
Then the dot-com bubble burst and the decision was made to shut the company down.
"I had gained a good reputation for doing the right thing in Boston. Even though closing the company was a tough decision, it was viewed as the right financial decision," she says. "Soon the phone started ringing off the wall with other venture capitalist firms wanting me to come and run their companies." Marks says.
This experience provided a valuable life lesson for Marks.
"It was my first foray out of my comfort zone and it failed. But I had to pick up and dust off and keep going. Some great opportunities came out of that failure," she says. "That led me on the trajectory of where my career is still on this day. I still work for investors to run and grow their companies for scale and or exiting. I love fixing things," she says. "I especially love building a great culture and delivering great service to my customers, which always translates to the bottom line."
That is how she found her way to Tampa.
"One of my investors had an opportunity down here in Tampa," she says. "We fell in love with the Tampa Bay area. We were done with relocating."
TIME, TALENT, TREASURE
Marks can't help but talk about her admiration for the work that Metropolitan Ministries does, and how proud he is of her husband of 38 years.
Her other philanthropic passion is mentoring and giving her time to help young people, and women, find success.
She is chair of the advisory board for University of Tampa's Lowth Entrepreneurship Center.
"Growing up without mentors, Mom did her best to be there but couldn't always be, I now know the importance of having that guidance along the way," Marks says. "For those that don't know where to go, or don't have the resources, I just want to help. I talk about time, talent and treasure. Anything I can give of those three things to help young people get ahead, I will."
Giving back is a huge part of the Marks' life, both in an out of the office.
"To help people is why we are put on this earth. If we can't give back, what are we doing here?" Marks says. "I can't imagine running a business without some type of philanthropic slant. It's important to give back. We're not just here to make money for ourselves."
One thing that stands out on Marks' resume, is the eclectic nature of industries she's worked in.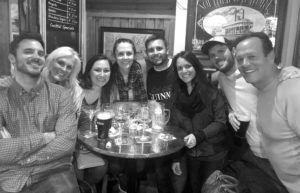 When asked about it, Marks says her approach to "fixing" a company is the same no matter the industry. She says, just look at a bar stool.
"I learned at some point, that you approach a business as a stool, which has three legs. One leg has sales and marketing, then there's operations and other is finance. Those three legs have to be balanced. When I go into a business, I'm very methodical," she says. "I'll just drill down on those three things. What's working, what's not? I always talk to the people. Most importantly, I like to think of the stool seat as the culture and the people. This is the part that holds the stool, or the business,  together."
Marks says her current company, MTA, is running smoothly, and quote, she has the "best team ever"
"We're on the M&A path and actively looking," she says. "The organization is now built for growth thanks to the support of our investors. M&A will enable us to provide great value and economies of scale to our customers."
CHANGE YOUR MIND, CHANGE YOUR PATH
Marks says failures make for invaluable lessons during one's professional journey.
"I don't have a fear of failure. I've failed tons of times and I will continue to do so, but I've learned the best lessons when I've failed," Marks says. "It keeps me in the growth mindset. If you don't fail, you're not trying. I know it's cliché, but it's powerful."
Her advice is when you fail, take time to reflect, regroup and rally. "Just keep getting up and trying," she says. "I coach young people a lot. When they say, 'I have to figure it out,' I tell them, 'You don't have to figure it out. Just go try it, go do it. If you stumble and fall, pick yourself up.'"
She's been successful, because she just keeps going. Her learnings from the past have made her the leader she is today. And those learnings, she believes have made MTA the leader it is today –  a leader in the industry.
She's also been successful because she seeks out other experts. The CEO Council of Tampa Bay has been a great source of relationships, ideas and solutions for her.
"Pick a path and follow it and if it's the wrong path, change course," she says. "For moms that are trying to be Superwoman…you're always going to be trying to find balance, and it just doesn't exist. Don't drink the Kool-Aid, just do the best you can do." ♦