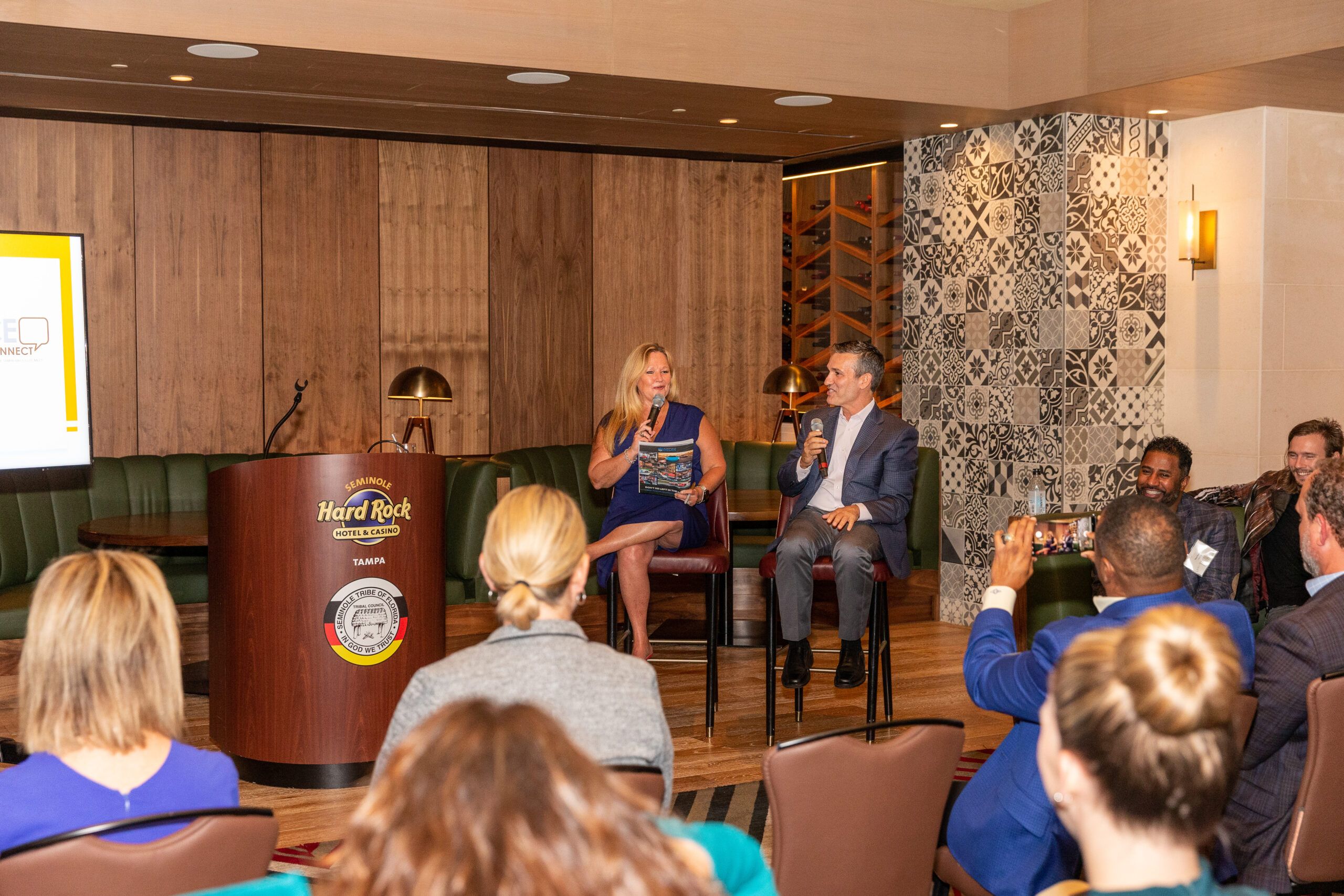 CEO Connect with Tony DiBenedetto (PHOTOS)
Tony DiBenedetto is founder of Think Big for Kids, a nonprofit that helps underprivileged youth discover untapped potential through three programming pillars: career exploration, mentoring and job readiness and job placement.
He's the former CEO of Tribridge, a major technology company in Tampa which sold in 2017 for $165 million.
Bridgette Bello interviewed DiBenedetto in front of a live, sold-out, audience at Cipresso in the Seminole Hard Rock Hotel and Casino. This transcript has been edited for length and brevity.
Has anything cool happened since being on the cover of TBBW?
The irony is almost all of my guy friends have commented on my looks. [audience laughs] I don't know if it's a compliment or if I should be very insecure. [more laughter] No seriously though, we've had so many people reach out to learn more about the [Think Big For Kids] mission and say they want to do something with it.
What we found through COVID, and even before, is that people really resonate with who I'm helping, and how I'm helping them.
We're getting people reaching out that didn't know anything about us.
Think Big For Kids is a primary focus for you now. Can you share any stories about how you're making an impact?
When you add to the obstacles you have as a normal child, you add poverty, you add a single parent, you add domestic violence, unless you're a part of that population, you really don't realize how difficult it is.
It's hard to explain to someone if they haven't experienced it. People that volunteer with us are like, 'Whoa.'
For us, a couple of the highlights would be during the spring we provided scholarships for seven kids to go to trade school, or college, to families that would otherwise not receive them, because they weren't necessarily 'A' students. We're not looking for 'A' students. We help all kinds of students, with all kinds of different interests.
Chris Moyer is here, with SME, he offers a scholarship for those more tech-oriented, or more trade-oriented. Because he grew up that way, and he can see that.
Think Big For Kids is all about helping you find a passion and we will show you how to get there. Expose you to it. And then give you all the resources to make it happen.
We work with about 2,000 kids and we're showing them what's possible. Ninety percent of the time we show them a career that they've never heard of. And now they're thinking, 'how do I do that?' And then, we start to show them how with partners like Reliaquest and A-Lign. We're a product of the community.
Watching the kids light up, and changing a life, it is life changing for you.
I made Hugh [Campbell] talk about the difference in running the CEO Council versus a team of soldiers, and asked him which one is more challenging and his answer wouldn't surprise you, managing the CEOs is way more challenging.

 

How do you compare running Think Big For Kids to running a multimillion-dollar company?
We were a very fast-growing company and it was global, we had people all over, so from that perspective, it was pretty different. I had been on nonprofit boards, but I had never worked for a nonprofit and I saw that as an advantage. We went in thinking, we're going to take an aggressive attitude, we're going to partner up, but some of the stuff is the same.
The difference for me is I'm not the CEO. I have a CEO, Amy Alley, and if you guys have never met Amy, she is a superstar.
So for me, it's a lot easier to be the idea guy and work on fundraising and let Amy do the hard work. I kind of did that at Tribridge. I was the CEO, but I didn't really work that hard there either [laughter].
[Gesturing to Hugh Campbell] It's different for me than it is you, because I would not run the CEO Council. I know him, he's a glutton for punishment. That's not me. I couldn't do that.
That was a great segue to the next question. But I have to ask you a question completely off script…can you teach me how to be a CEO that doesn't work very hard?
I could say who I learned it from but they'd be really pissed off at me.
You don't sleep at night for good reasons and you don't sleep good at night for bad reasons.
You talked about, in the interview, the challenge of hiring great people. Tell us about a time that it worked in your favor, or didn't work in your favor. This is a room full of people that run companies and can really learn from your mistakes, or your wins.
I don't think anyone in here that run a company would say it's not about the people. I think the number one job for a leader, forget a CEO a leader of anything, is can you attract the talent and motivate the talent.
I've made so many mistakes in hiring. There was a guy, I'm not going to say his name, but he was a super star and also could perform individually. He was really good at his function, but he routinely would tell me, the reason why we won is because of him and the reason why we lost was everyone else.
After like the 30th time I heard this, I realized he probably was not the right guy. Everybody was shocked that we fired him.
For a while, you might be mesmerized by success and ignore the culture. But at the end of the day, hiring to me, from what I've learned, it's always about culture. It's never about skills. I can teach skills. I can't teach someone to be a good group guy, or a great leader.
Was the sale of Tribridge your first exit, or had you been through that before?
I've sold other businesses. But that was a bigger deal.
Talk about what you would have done differently.
I don't know. For those of you that have sold a business, it sounds like it's an easy thing and has a great outcome, for sure, but it's kind of hell on wheels. It's a difficult thing. We bought a couple of companies and that was a lot easier.
Hire the right banker. Take your blood pressure medicine. I don't have any regrets.
What's the best piece of business advice you've ever received?
How many people in the room know Marc Blumenthal? I've known Marc for thirty-something years. I'd say he's a close friend. I've bought two of his companies, over the course of my career and have served on a couple of his boards, so I know him really well. If you guys know Marc well, he gave me a lot of advice over the years, like way more than I wanted and way more than I could understand. [laughter]
Marc's brilliant and talks more than I do, which is hard to imagine, and the one thing he said to me that changed the flight of Tribridge, more than most things, he said, 'Listen, the one big thing you can do is think bigger.' It sounds simple. He said, 'You're holding back. You're holding Tribridge back and not putting it all out there. You need to put your foot on the gas.'
That way of thinking changed the way I ran my company. And that's how we got to $100 million in four years. It doesn't have to be about revenue but that thinking way bigger than I was previously thinking changed the flight of our company. ♦
ABOUT 'CEO CONNECT'
TBBW's "CEO Connect" series is an exclusive, invitation-only, event that brings together Tampa Bay area's top business leaders to meet and mingle. Axiom Bank, Questmont, Tomlin St. Cyr and United Way Suncoast were presenting sponsors. The host sponsor was Seminole Hard Rock Hotel and Casino Tampa.
The evening begins with a cocktail reception for about 120 guests, followed by an interview with that month's cover CEO.
Partnering with TBBW, on future editions, provides an opportunity to network with the area's business elite, generate new business opportunities and increase brand awareness.
For information about event sponsorship opportunities, email Jason Baker at jbaker@tbbwmag.com.
PHOTOS BY RYAN GAUTIER