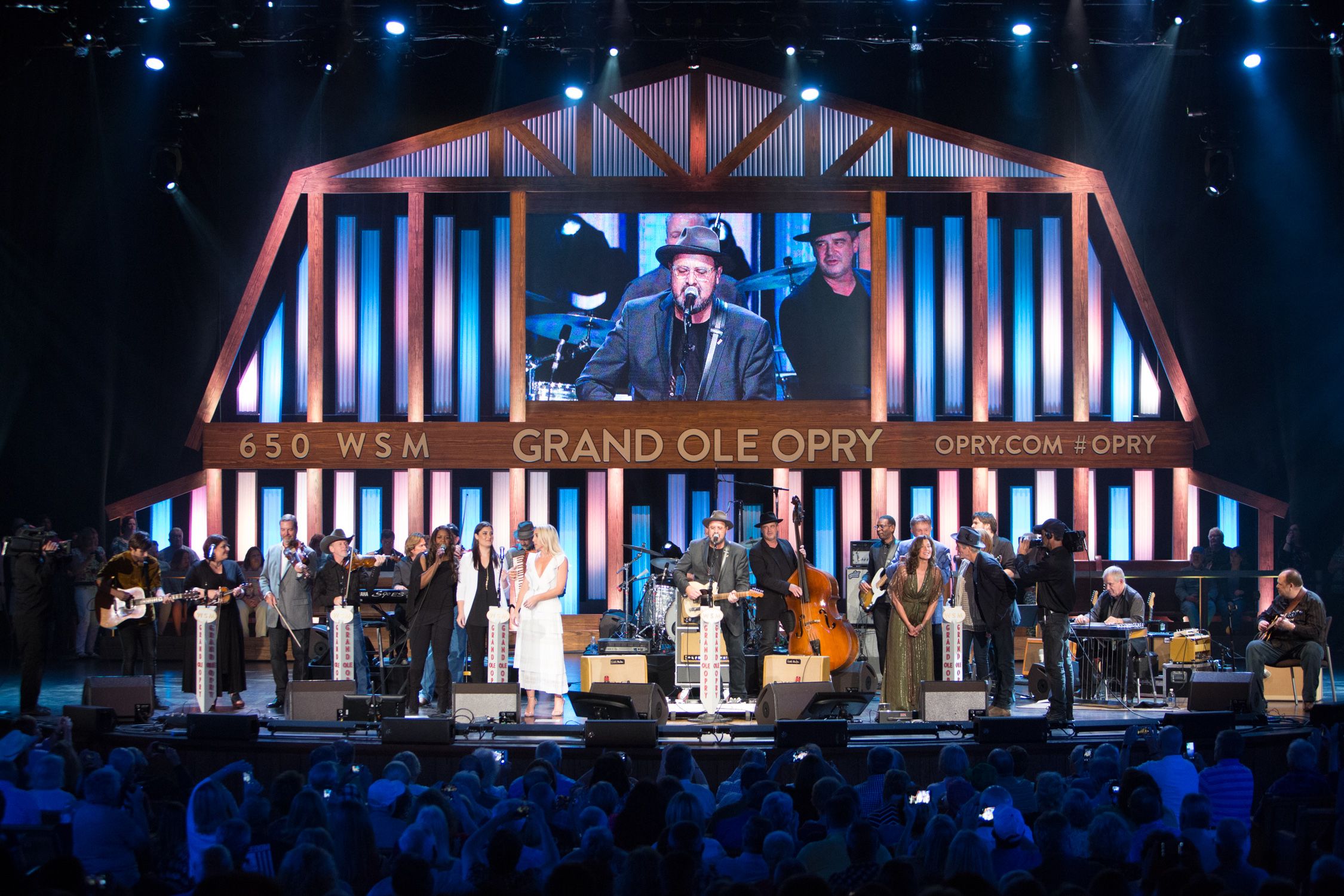 Music City revisited
The intersection of authentic, cool, casual and elegant encourage Nashville visitors to holiday any, and every, way they like.
In early October 2021, Ketch Secor looked out across the sold-out crowd at the Grand Ole Opry and launched into his best Roy Acuff impression. Mimicking the fabled "King of Country Music" and Grand Ole Opry empresario, Secor lowered his voice to a gravely baritone and bellowed Acuff's advice, dutifully observed by every performer who's ever stepped into the legendary circle. "When you find yourself on the stage at the Opry," Secor said, pausing for effect, "Be certain to play the song that got you there."
The Opry's 4,372 patrons collectively leaned forward in their seats, let out a cheer of approval and Secor's Old Crow Medicine Show, the Grammy Award-winning American string band, kicked off their biggest hit, Wagon Wheel, to close the 90-minute non-stop performance. Another Saturday night in Nashville, and another fully contented crowd, glowing from a shower of musical excellence found in countless honky tonks, lounges, clubs and, of course, Nashville's biggest stage of all, the Opry.
While there's plenty of tradition and historical anchors to enjoy in Nashville, today's visitors might be surprised by what's served up lately. From an evolving music scene that ain't what your daddy might remember, to inventive culinary takes, funky, walkable, neighborhoods and a diversity of cultural offerings, Music City delivers a full plate for a get-away as fancy, casual or however you like. Here's some of our favorites:
STAY
● Nashville's Hermitage Hotel remains Music City's grande-dame, luxe property, with glorious beaux arts styling at every turn. Host to political, business, entertainment and titled royalty since 1910, the Hermitage pampers guests at every turn with touches such as personalized stationery and breakfast in bed. In late 2021, global culinary rock-star Jean-Georges Vongerichten took over the culinary program here and brings guests Drusie & Darr, a contemporary, locally focused, elegant restaurant, and The Pink Hermit, with small bites and an extensive Champagne bar.
● The newly opened Grand Hyatt Nashville is in the heart of downtown, at Broadway and Nashville Yards. The Frist Art Museum is right across the street and a short walk down Broadway brings you into the entertainment district. Lou/NA, the hotel's rooftop bar, is 25 floors up, offering the city's best 360-degree views, custom-crafted cocktails and sharable plates.
● Perched along Nashville's Music Row, the new Virgin Hotel Nashville is home to visiting music royalty. See and be seen sipping a Venetian while pre-clubbing at the Commons Club, the Virgin's hip lounge and restaurant.
PLAY
● Music City's legendary Ryman Auditorium is Nashville's most-coveted backstage pass. Learn about the venue's storied history, take a selfie in the green room where Johnny Cash and June Carter met and admire the view from the stage. Better yet, take in a show at the "mother church of country music."
● The National Museum of African American Music is a newly christened gem and becoming the bucket list destination for true American culture and music fans. From soul and blues to reggae, roots, gospel and jazz, this encyclopedic collection has some of the most sophisticated interactive exhibits in the world. A chip-embedded wristband allows visitors to create a playlist from most exhibits including self-made recordings.
● Cheekwood Estate and Gardens and Belle Meade Historic Site and Winery; Leisurely exploration at these two attractions shows off Nashville's natural beauty. Cheekwood has miles of walking trails, acres of spectacular gardens (the Japanese Garden glows) and an art-filled grand historic manse to take in. Belle Meade's roots go back to equestrian breeding and expose visitors to the lifestyle of the one-time queen of the Tennessee plantations. Don't be surprised when the estate-made wine and bourbon captures your fancy.
● Fifth and Broadway. Steps away from boisterous Broadway Honky Tonks, this brand new retail shopping and dining district is a fun before- and after concert haunt, anchored by Assembly Food Hall, with dozens of local restaurants and great people watching.
DINE
● Arnold's, a meat-and-three cafeteria-style restaurant, is the pinnacle of southern comfort food. Cops, politicians, doctors, lawyers and students all navigate the cafeteria line for favorites such as chicken and dumplings, fried catfish, roast beef, collard greens, fried green tomatoes and Arnold's legendary pies.
● Elliston Place Soda Shop, part old-time soda shop, part meat-and-three, this throwback, nostalgia laden joint offers phosphates, milkshakes, burgers and the best fried pickles in Nashville.
● The Dutch is simple, roots-inspired fare executed at the highest level. James Beard Award-winning chef Andrew Carmellini's hot fried chicken with honey butter biscuits is sublime.
● Former Husk executive and co-founder Sean Brock's nod to classic Americana, the Continental is a multicourse prix-fixe fine dining experience without pretense. Menus rotate and highlight wild game, shellfish, seasonal vegetables and delicate pates that pop with accompaniments such as unusual chutneys, light sauces and delicate fresh herbs. ♦
For more information about Nashville, go to visitmusiccity.com.