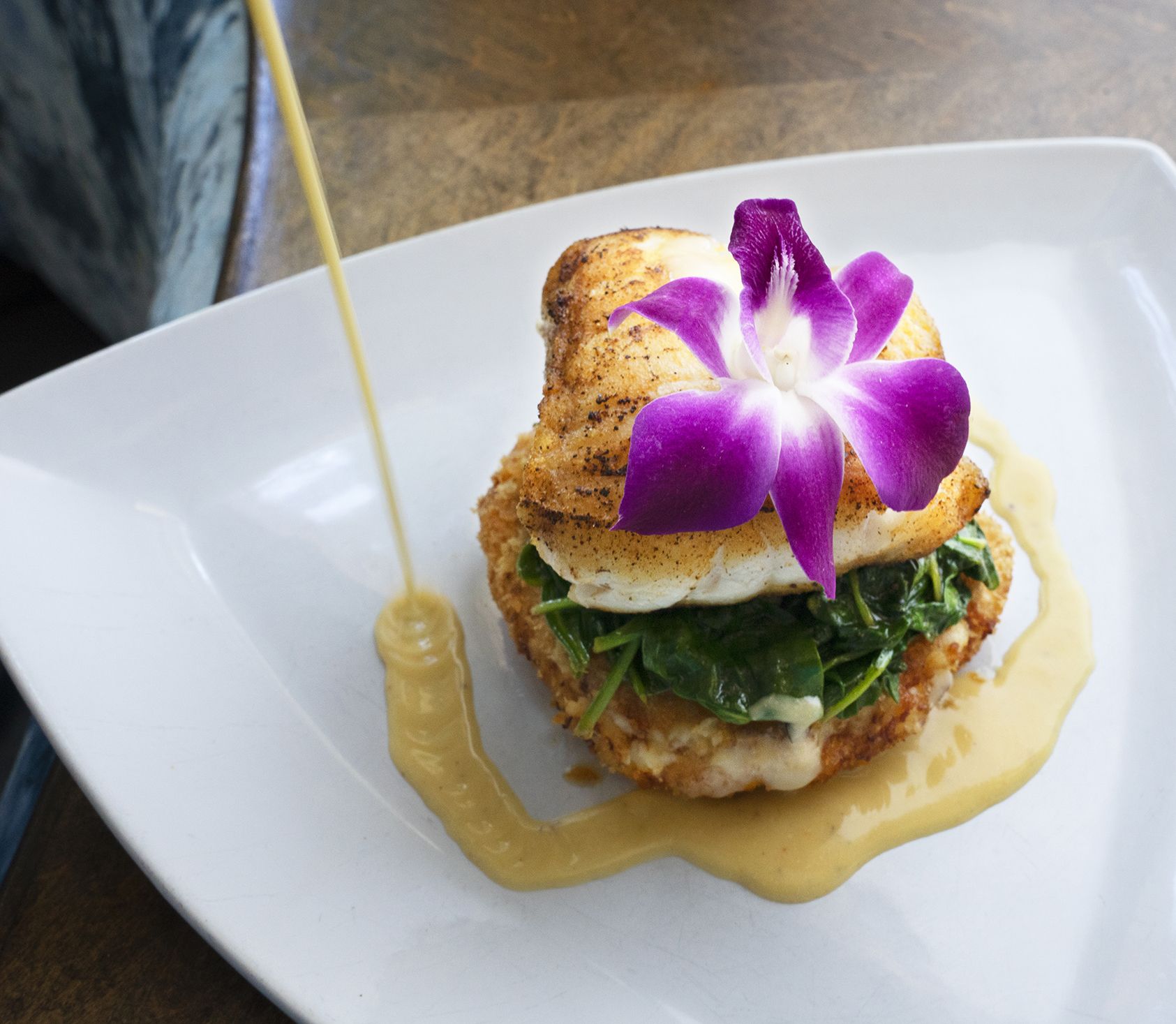 The relaxed sophistication of Beachwood Seafood (PHOTOS)
Beachwood Seafood | 4022 Tampa Road, Oldsmar
The team at Beachwood Seafood in Oldsmar pays attention to details. From the thoughtfully curated interior space to the edible flowers used as a garnish, the details help set this restaurant apart from others. And those details transcend through the menu.
Chef James Mitchell creates dishes that combine accessible ingredients and artful presentations with delicious flavors and textures. The Beachwood Seafood experience is sophisticated enough for a special night out yet relaxed enough to make everyone feel comfortable.
A little Bit Spicy
A great way to start the experience is with a Pineapple Jalapeno Margarita and a plate of fire-roasted oysters. The margarita combines Dolce Vita Pineapple-Jalapeno tequila with Cointreau, agave nectar and fresh lime juice. It's sweet and tart on the tip of the tongue but fires up in the back of the mouth. It's the perfect drink to wash down the oysters. They are presented on the half-shell, drenched in garlic parmesan butter and crowned with a panko topping. The oysters offer a sublime taste of the sea, while the topping creates a crunchy foil.
Unique and Brilliant
The Hibiscus Paloma cocktail has a unique flavor profile, brilliant color and a refreshing finish. It's made with Corazon tequila, hibiscus syrup, lime juice, grapefruit and a splash of ginger beer. The combination of hibiscus, grapefruit and ginger works so well. It looks and tastes sweet, but before it becomes a sugar bomb, it's saved by tart and savory undertones. This makes it a perfect accompaniment to food like the pan-seared scallops appetizer. Jumbo in size, the scallops are firm and sweet, served over a panko-crusted white cheddar potato cake. Under it lies a pool of lobster cream sauce. These are some of the best scallops I've eaten and worthy of the drive from anywhere in Tampa Bay.
A Drizzle of Lemony Richness
A shellfish cobb dinner salad offers a beautiful selection of seafood and fresh vegetables. Order this salad and a glass of crisp white wine for a perfect entrée on a warm summer night. For another entrée, fresh grouper is pan-seared and served on sauteed spinach and a potato pancake. As a finishing touch, citrus beurre blanc is drizzled around the edge of the dish. The fish is mild and flaky, and the pancake adds a creamy texture, while the beurre blanc coats every bite in lemony richness. 
Delicious from Tip to Tail
Order the crispy whole snapper for a unique entrée with a dramatic presentation. The fish is scored and coated in a dry rub before flash-frying and presented upright on a plate. It's curled around soy-glazed, stir-fried vegetables and curried pineapple-mango chutney. The scoring creates planks of snapper that separate from the spine with an easy pull of a fork. Each bite starts with a crispy bite followed by moist and flavorful fish. When eaten with the vegetables and curry, a wonderful mix of flavor and textures make you appreciate the attention to detail. This is a special dish that you can't find in most restaurants—and something you probably won't make at home. So don't be scared of a whole fish. Be a little daring, order it and enjoy every bite.
A Soft Pillow of Goodness
A delicious, fun dessert is the Bunch o' Beignets. Everyone loves hot doughnuts with a delicate, crispy shell, a soft pillow of goodness inside and a generous dusting of confection sugar. They are served alongside a trio of dipping sauces, including chocolate, caramel and raspberry. For something a little more sophisticated, order the Tuxedo Bombe. It's a lovely little chocolate cake, topped with layers of chocolate mousse and a chocolate shell. It's garnished with a little whipped cream and pretzel-caramel popcorn. Its light texture packs an amazing chocolate punch, and the popcorn garnish adds a bit of whimsy. Dessert should be the fun part of a meal, and at Beachwood Seafood, they are.
Attention to detail helps Beachwood Seafood define the term "relaxed sophistication." All the little details must be executed, so guests feel special. But everything must look effortless to make the guests feel relaxed. That combination is hard to pull off, and Beachwood Seafood does it well. ♦