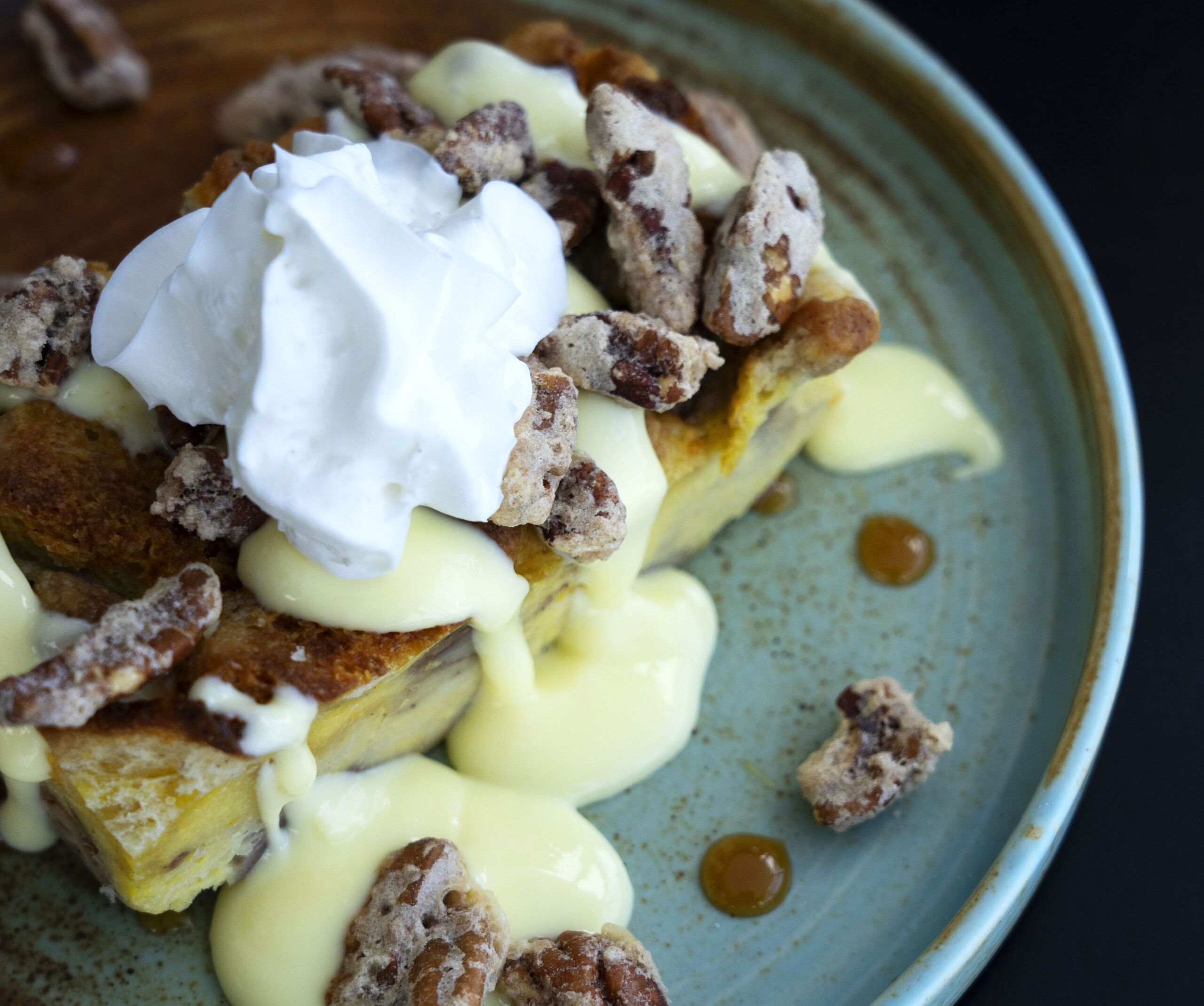 Teak offers a view to a thrill
Teak | 800 Second Ave NE, St. Petersburg
Before it opened, Teak, the Birchwood-operated outpost on the pier head in downtown St. Petersburg, was the envy of many restauranteurs. It is the featured restaurant on the city's newest attraction, the St. Pete Pier. The sweeping views of Tampa Bay, the yacht basin, Albert Whitted Airport and downtown are unparalleled. The facility is brand new, built to spec and completely customized. The views will always be spectacular, but the responsibility for creating repeat customers is the food, service and experience, and Teak delivers on each one.
Drink It All In
There is a cozy inside bar just off the main entrance to the restaurant with stunning open water views.  It's the perfect spot to start your Teak experience. Among the unique signature cocktails, you'll find one called the Garden Variety. This herbaceous elixir features cucumber vodka, hibiscus simple syrup and lemon. It's all swirled with beet juice and the result is a brilliant-colored cocktail served in a coupe glass with a basil leaf attached with a tiny clothespin. It's beautiful, cute and delicious all at once. Another stunner is the Salt Air Sipper. The color of this drink comes from yellow bell pepper juice and passionfruit. The glass is rimmed with black sea salt for a dramatic presentation. Herradura Silver gives the spike, but try with mescal for a slightly smoky twist. This drink has both fruit and vegetable juice, so it's "healthy-ish." Try both versions, and raise a glass to your good health.
A Cool Start
One of the starters is the Winter Rental. It features raw oysters on the half-shell and steamed shrimp, but the star of this show is the scallop crudo. Raw scallops are dressed with a ponzu sauce and nestled in scallop shells. The slightly sweet flavor of the scallops combines beautifully with the tart and tangy sauce, made with lemon, yuzu, soy, mirin and dashi. This is a chilled summertime appetizer that kindles your senses. 
Tartare is another form of crudo and Teak offers tuna tartare, full of flavor and texture. Ponzu-marinated tuna crowns guacamole and crème fraiche, all sitting pretty on top of a crunchy toastone.  Garnished with pulverized cashews and watermelon radish, it's a beautiful presentation that draws you in. The toastone is a sturdy base to support the tartare on its journey to your mouth. Its discrete flavor doesn't compete with the sublime flavor of the tuna. In one bite, you get crunchy and creamy textures while the flavor of the tuna shines through. 
If you're looking for a hot appetizer, try the Cast Iron Mac & Cheese. Smoked gouda cheese gives this version of classic comfort food a subtle twist. It has just the right amount of smoky flavor that doesn't overpower it. The little crunch from the breadcrumb topping and fresh herbs give this mac and cheese a splash.
Should be Bottled and Sold
Entrees include seared scallops with summer succotash and bacon jam, and a filet of gulf grouper. Black grouper is pan-seared in olive oil, creating a golden crust that stays crispy to the last bite. It's served alongside fresh green beans and citrus risotto drizzled with beurre blanc. The fish is mild and flaky, while the risotto is creamy with a mild citrus flavor and slight bite. This is what risotto should be. The short rib comes bathed in guava-ginger barbecue sauce that should be bottled and sold. It's a unique nod to Florida that compliments the tender rib meat that shreds at the touch of a fork. Served over garlic-sauteed kale and a cauliflower and Yukon Gold potato mash, this is comfort food that rounds out Teak's seafood-forward menu. 
Would Have Licked the Plate
Skipping dessert is always a big mistake, especially at Teak. Cinnamon rolls and croissants steamed in citrus custard are the base for the pecan pie bread pudding (pictured above). It's studded with toasted pecans and finished with bourbon caramel. I would have licked the plate if the staff hadn't brought out its pineapple right-side-up cake. An individual pineapple cake, wreathed with a pineapple ring with the classic cherry in the middle, is heaven in a skillet. It's paired with a toasted coconut ice cream for a tropical flavor, perfect for waterside setting. Savor this with a pina colada, take in the breathtaking views and Teak delivers an instant vacation to the tropics.