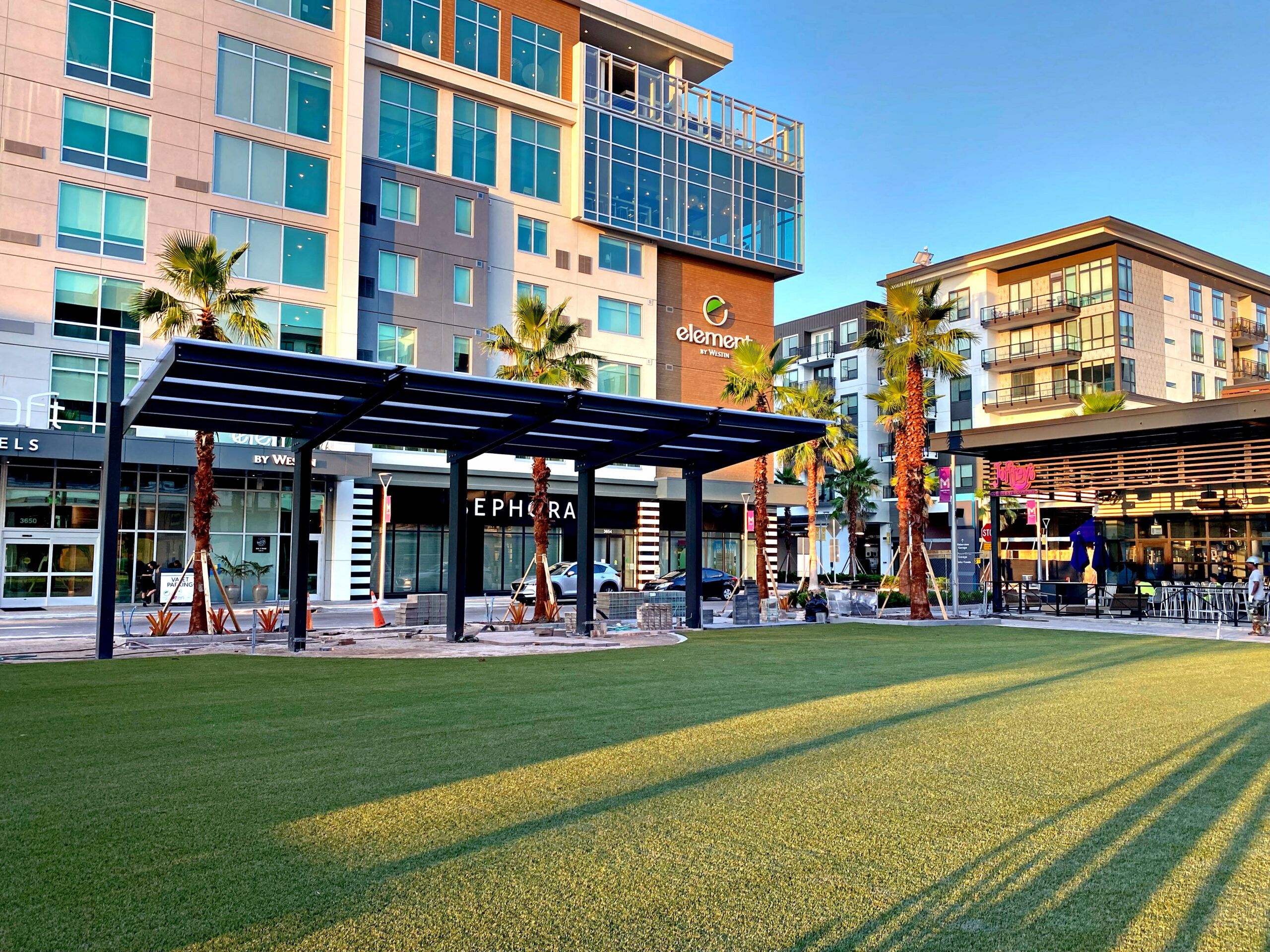 The Midtown ecosystem
How The Bromley Cos. turned a large plot of land into its own 'city within a city.'
The buzz around Midtown Tampa has been building for years, and now everyone is finally getting to see what all the hype was about.
To talk to Nicholas Haines, CEO of The Bromley Companies, a national real estate development firm behind the project, he always knew it would come together and create a special place to gather in Tampa.
"The unique part of our site was the super high visibility of it," Haines says. "It could command regional focus. If we could bring all the components together, we could create something special."
With 22 acres to work with, the project was essentially a total blank slate. Roads needed to be designed, a speed limit needed to be established and parking had to be easy to use, but not detract from the cohesive design Haines, and his team, worked hard on.
The property also had to be designed in a way that was functional for the tenants in the residential buildings, Novel Midtown, but also easy to use for visitors that would be staying at  Element and Aloft by Marriott, the dual-branded hotels.
Not to mention the locals who wanted to swing in and pickup their Drunk Elephant at Sephora, grab their Joffrey's cold brew or a burger from Shake Shack.
"We visited at least 10 live-work-play projects in the United States. That's the key to Midtown, it's all integrated," Haines says. "They're hard to do. It's difficult to integrate all of the parts."
Some of those cities visited included San Jose, California, Washington, D.C. and Austin, Texas.
"We tried to observe what made them successful and how they were laid out," Haines says. "It's a city within a city."
It all really started to come together when the Whole Foods Market, the largest in the region, opened in June.
Whole Foods was the first tenant of the site and was considered the anchor tenant that would fulfill the needs of all four uses of the site, Haines says.
In addition, it was a retailer that was desirable for other retailers to come on board due to the guaranteed high foot traffic it would provide. Same for REI Co-op. The company's first location on Florida's west coast caters to outdoor enthusiasts, and laid the foundation for what has emerged – a real estate development opening at nearly 100 percent leased.
Chef Chris Ponte's new restaurant, Ponte Tampa, which is still under construction and on track to be open later in 2021.
Ponte also owns On Swann, in Hyde Park Village, and Olivia, which opened in 2019. He formerly ran Café Ponte in Clearwater, which closed in 2020 during the COVID-19 pandemic.
"We tried to find a mix of new to market concepts and some great local concepts," Haines says. "So Chris Ponte, putting his flagship Tampa location here, was a big one."
Other food concepts in Midtown Tampa include a St. Petersburg staple, Bella Brava, True Food Kitchen and Tampa's first Shake Shack.
There are two, yet to be announced.
The biggest challenge, Haines says, was building the project all at the same time.
"But that's what made it interesting. You want it to be a finished city so everyone can interact with each other," he says.
Now that Haines and his team are seeing the finish line at the end of the project, the buzz walking through Midtown is louder than ever. Pavers and turf are freshly placed and, one by one, retail shops are welcoming customers.
"Tampa has this pulse. It's totally transformed," Haines says. "There is no other place in the United States that I would have rather invested $500 million than Tampa Bay." ♦
Photos by Christina Harden | Bromley Companies