Tampa Bay Business and Wealth presents its first Up & Comers special section.
The Tampa Bay area has no shortage of young talent. With more than 50 nominations for TBBW's first section, which seeks to celebrate the rising talent in your workplace, and the community, it's obvious that the future of Tampa Bay is in good hands.
In this first section, we selected eight professionals to highlight, but don't fret if you turned in materials, or were nominated, and don't see your recognition yet. We will feature these quarterly and will continue to accept nominations on a rolling basis.
Selection is done internally and is based on both your nomination form and your letters of recommendation.
Want to submit? Email me at Jbrown@ TBBWmag.com.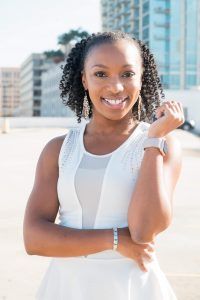 Basha Ferdinand
Director of programming, Synapse
Ferdinand is a proud Tampa native and found her passion in organizing meetings and events that bring people together for learning and making meaningful connections. 
What are some of the ways you have demonstrated leadership in your current, or previous, roles?
Some of my roles in organizations I've worked with, I was the first one to hold that title within the organization. While that may be a challenge for some, I welcomed the opportunity to help create the framework for how my position would help us reach our objectives. Over time my duties and responsibilities evolved, and I implemented new programs, and led committees that resulted in us growing our team and generating new partnerships for the company.
In what ways do you give back to your community through volunteer work, advocacy and board service?
As a Tampa native, I always wanted to find myself in a position where I could contribute to the growth, and success, of my city and I'm fortunate to have been able to accomplish that. I'm a member of the Young Professionals Board at Embarc Collective supporting the startups and member companies leverage resources.
What advice would you give to other young professionals starting out?
My advice would be to nurture past and present relationships and keep your network strong. You never know what may come out of those relationships years later.