If you think that the on-demand culture is going anywhere, think again. Three on-demand beauty service providers recently have emerged on the Tampa Bay scene and are making the women of Hillsborough and Pinellas Counties even more beautiful.
Goldplaited: South Tampa (also two Chicago locations)
Located adjacent to the University of Tampa campus, Goldplaited Tampa opened earlier this year and serves a niche market clientele and area of town that had previously been ignored. The bungalow business features hair, makeup, braiding and tinsel, in addition to a small boutique.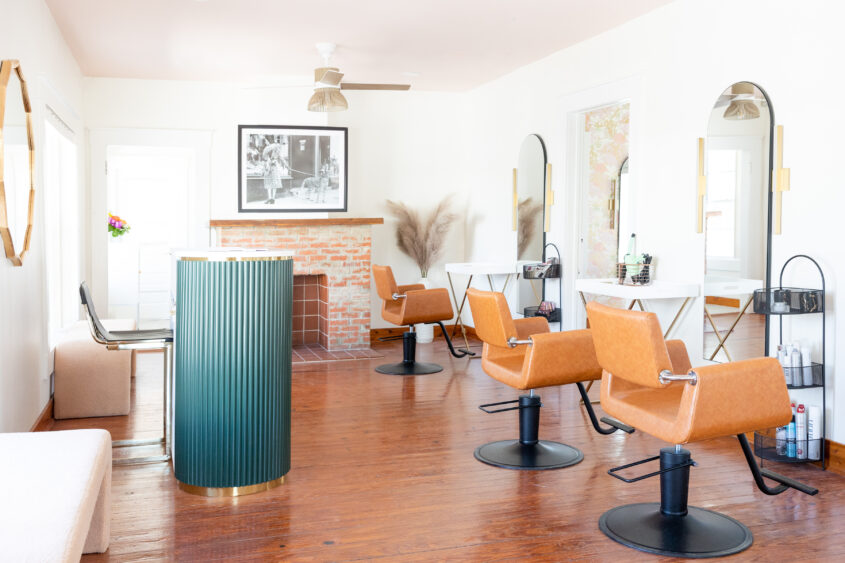 Mal and Coco Strong launched the Goldplaited brand in 2013. They had an "aha moment" while living in Los Angeles, in 2011, and seeing the popularity of express, convenience-based, beauty businesses. The ladies realized that for busy, social women to be able to outsource their hair and makeup for a better result than what one could achieve at home, it was well worth the price point. They first chose Chicago and the name Goldplaited. Leaving careers they loved, they entered the industry as complete novices. While they were definitely the ideal client for their business, they quickly learned by talking to clients, and employees, how Goldplaited could reinvent the makeover experience to work better for all involved.
As full-time owners, and operators, who don't work behind the chair, all of their bandwidth went to building a positive salon experience. There is also an unyielding emphasis on the training and development of their artistry team. This focus allows them to curate each client's experience from their initial inquiry through the final checkout. By listening to what the clients want, and do not want, they are able to match them up with artistry team members. The choice to expand to Tampa was an easy one, they say, as the sisters had traveled here from the harsh Chicago winters and wanted to spend more time here. One business morsel Coco and Mal hear often: "You can't scale quality!" That might be true, but to them, they are going to try. Membership services are also available. 
113 N. Delaware Ave., Tampa
813.820.1728
Sip & Dry: St. Petersburg (opening Water Street, Tampa, late summer 2023)
Sip & Dry, located off Fourth Street North, in St. Petersburg, was one of the first blow-dry bars in the St. Petersburg area, founded by Blair Hiller, who noticed a lack of service in the St. Petersburg area. "Having been in the hospitality business, working at a high-end restaurant, my regulars were often complaining. After several years of contemplation on the idea, my husband and I took the leap" Hiller says.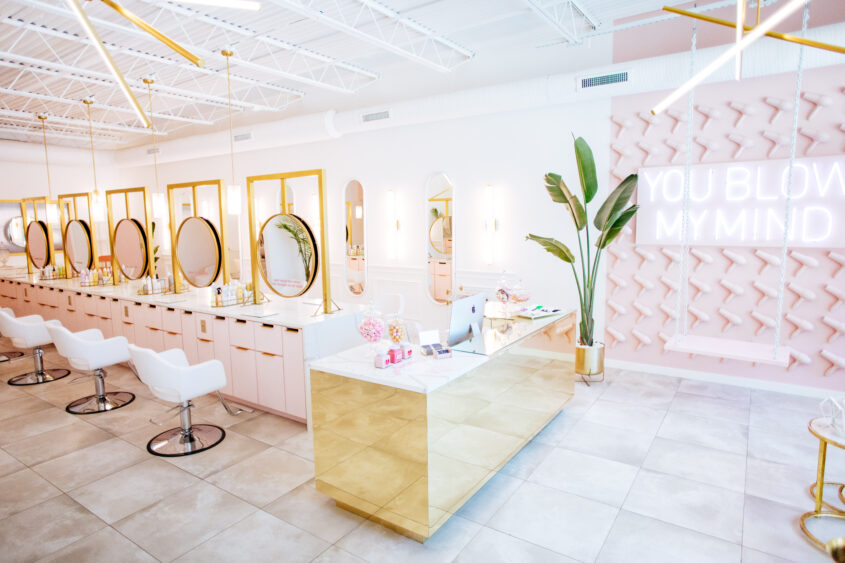 Offering blowouts, updos, makeup, tinsel and even waxing, the salon currently has 10 styling chairs and a separate makeup area to accommodate large parties. It prides itself in offering a $45 blowout in an environment that is "fun, girlie and chic." What's even better? It has a license to sell wine and beer, so every service comes with a complimentary drink. Choose from prosecco, rose, pink Champagne, white wine or a mimosa. Bottle service also is available. Non-alcoholic free drinks include sparkling/bottled water, coffee, soft drinks and even juice boxes for kids. Sip & Dry also offers a monthly blowout membership.
210 Fourth St. N., St. Petersburg
727.800.2409
MiniLuxe: Water Street, Tampa (also locations in California, Massachusetts and Texas)
MiniLuxe, a brand founded with a vision to radically change the nail care industry through a commitment to the highest quality self-care services, safer and more sustainable products and cleaner studio environments and practices, has opened its newest studio, in Tampa's Water Street district. The opening represents MiniLuxe's first studio in Florida, and its 21st location nationwide. MiniLuxe's Tampa location will feature a thoughtfully designed studio with manicure and pedicure services, as well as expert waxing and aesthetic services.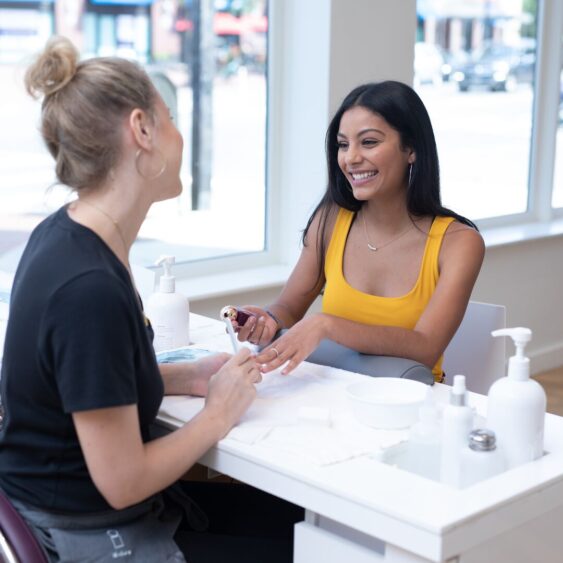 Tampa residents ready to experience it also can book MiniLuxe Anywhere, an on-demand, on-location service, where MiniLuxe-vetted nail designers come directly to the client. "We're thrilled to be opening our doors in Water Street and can't wait to share our passion for empowerment and a new standard of clean nail care with the Tampa community," says Zoe Krislock, chief executive officer of MiniLuxe. "Our goal is to provide a space where clients can indulge in some well-deserved self-care and mini moments that leave them feeling confident and beautiful."
The brand is long recognized for pioneering clean practices, adding surgical-grade autoclave cleaning tools in studios and removing toxic polishes and acrylics. MiniLuxe's Eight-Free Pure Polish is notably free of eight of the most common toxic ingredients in nail polish (DBP, toluene, formaldehyde, formaldehyde resin, camphor, xylene, ethyl tosylamide and triphenyl phosphate.) It also created a luxury line of beauty products that meets the highest standards for clean beauty products. 
MiniLuxe's dedication to going beyond what's standard extends to its commitment to empowering one of the largest workforces of women, and immigrants, by providing a path toward economic independence. Its team members receive ongoing skills training, fair wages, a 401(k) and shared company ownership. With its Tampa location, MiniLuxe looks to grow its workforce of 500 team members nationwide, 96 percent of whom identify as BIPOC/female.
1053 E. Cumberland Ave., Suite 110, Tampa
857.702.8132
Brooke Palmer Kuhl is the president of RSBP Events and PR, a lifestyle and hospitality public relations, event and wedding planning firm. ♦