Moving to the mountains
A Tampa executive finds solace in Highlands, N.C.
By Dale Gordon
Fabulous…what a word. Not typically an everyday term in my usual vernacular, and yet somehow, it's appropriate here. The locals use it to describe everything. And where is this spectacularly designated destination you ask? None other than the refined Appalachian town, just on the edge of the Smoky Mountains, known to many affluent Floridians, as Highlands, North Carolina. 
I've been coming here since I was a kid. My grandparents, Merv and Fran Smith, first discovered the quaint little town in the late 1970's, after investing in a campground in nearby Cherokee. Like many Floridians, they craved cooler temperatures and a not-too-far getaway that was a realistic possibility for a second home. 
There were many options among the Western Carolina/Eastern Tennessee mountains. Bryson City, Murphy, Gatlinburg, Maggie Valley … just to name a few. But Highlands was unlike any of the others.  There were no chain institutions, no Burger King's or Walmart's.  Just a small, picturesque mountain town surrounded by more waterfalls and natural landscape than one could imagine. It was, and still is, a Norman Rockwell artwork.
They bought second home on Mirror Lake and shortly after, passed the house on to my parents, and opted for a more permanent residence in one of the local country clubs, Wildcat Cliffs. It was quickly evident they weren't the only Florida folks who had discovered this sanctuary in the mountains. 
It was a who's who of Palm Beach, Winter Park, Sarasota and many other Florida cities. Much like a Hampton's of the south, many came to Highlands for an escape, some relaxation and a connection. Whether that connection was to nature, golf or other like-minded Florida folks, it worked. 
Enter the Gen-Xer. 
I didn't realize until I was an adult that Highlands was a "thing." It's hard to explain but there is, well, a "thing" about it. Perhaps it's the unabashed beauty, or maybe the fragrance of pure unfiltered nature.  Maybe it's the childhood memories of adventuring through waterfalls and boulder filled streams with my brother. Whatever the reason, I found myself feeling more connected to people who knew about this sacred place. Almost like a secret club but a secret that you want to share with everyone because it's too special to keep to yourself.
Over the years, I did share this secret with my most beloved. First boyfriends, best friends and eventually, when we were married here, my husband. Ultimately, as my elders had done, we too planned to retire here. But then something changed.   
I found myself at a crossroads. I had built a very successful career in Tampa, I was an executive amongst the most prominent business people in a major metropolitan area. And, I worked hard to get there. But something was missing. I was proud of my accomplishments, proud of what I had contributed to my industry and my community. However, achievements often come with sacrifice.   
Being the mother of two amazing boys, teenagers now, I was often absent in their lives. My husband, a firefighter lieutenant also in the height of his career, was also often called away by his duty. We both loved what we did professionally and took the utmost pride in it. But where was the balance? Yes, we were providing for our family and setting an example of "if you work hard, you will succeed." But were we succeeding at life?
After overseeing the influx of over $40 million in economic impact in just four years to Tampa, I made a decision, it was time for a change. 
There can be freedom in such decisions.  Freedom and fear, of course.  You're taught your entire life to work towards building your empire to make your life mean something. But everyone's idea of their kingdom is different. Some want financial accomplishment, some want fame and recognition, others aspire to leave something behind – perhaps an endowment – or to make the planet a better place. To be honest, I still don't have the answer for myself.
After shedding the skins of our former preconceived notions, we explored the possibilities. We picked up, wrapped our arms around our family, and moved to Highlands.
Within days of landing in our new hometown, life was remarkable. Our two sons got settled into their new schools and by the end of the week, my eldest was asking if he could volunteer for the town 5k Color Run. Both my husband and I found jobs and within three months, bought a house on a mountain with a gorgeous view. We had found our peace.
Since relocating to Highlands we've become friends with people like Chris and Hilary Wilkes. The Wilkes, professionals in the fields of politics and entertainment, were living in New York City when they heard the calling. Having just had their first child, they decided that the big city was not the environment they desired for their family. Chris' family had an established business in town, The Highland Hiker, and, the rest is history. 
Over and over, I hear the same story; "I've been coming here since I was a kid" and "I can't wait to live here someday." Not one moment has passed that we have second guessed our decision. We are living a fuller more enriching life with our family.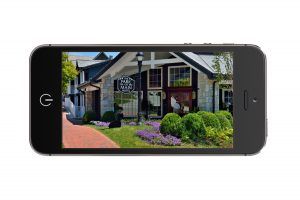 Bridgette takes on the 
Highlands Food & Wine Festival
By Bridgette Bello
I've been hearing about Highlands, North Carolina forever. Growing up mostly in Florida, it's impossible not to. Year after year, many of my friends and colleagues would head for the Western Carolina mountains for refuge from the Florida heat. Even though I'm a sun baby, and never really yearned for seasons and changing leaves, I have always been curious what the lure was. Given the opportunity and invitation to visit last Fall for the biggest social event of the year, the Highlands Food & Wine Festival, I decided to find out. 
Driving up the curvy roads to the mountain plateau, I could feel myself breathe in and begin to relax.  Hues of yellow, orange and red painted the skyline like a scene straight out of a movie. Waterfalls and vast panoramic views showed me I was definitely not in Florida anymore. It's no wonder the Highlands Chamber of Commerce proudly declares its 4,118 foot altitude the "Height of Happiness." Something magical happens when you cross that invisible line halfway up the mountain on your way from the ordinary to the extraordinary. We rolled down the windows and immersed ourselves in the clean, crisp air that the surrounding Nantahala Forest so graciously shared.
We had planned to bring our Yorkie, Sir Bentley, along for the visit so we booked a room at the dog-friendly boutique hotel, The Park on Main. Unfortunately, Bentley took ill the day before travel and wasn't able to join us. (He's doing fine now.)
If you delight in five-star luxury accommodations; if your motto is "Have dog, will travel," then surrender to the spell of Highlands' Park on Main hotel. Upon arrival we were delighted to discover our luxury-sized suite, complete with fireplace, Mr. Pickles (the hotel's mascot Scottie) shaped soaps, and accommodations for our best furry friend too, his very own MacKenzie-Childs dog bowl and an Orvis dog bed. As we settled into our beautiful suite, we enjoyed a glass of wine and let our toes get warmed by the heated Italian marble floors.
Our first jaunt out that evening was to the kick-off of the Highlands Food & Wine festivities, The Grand Tasting. Here we were surrounded by morsels of local fare and nationally recognized wines, complimented by great entertainment and ambiance.
The following day we were off to the spa at Old Edwards Inn for a massage. This decadent and celebrated retreat was just what the doctor ordered for an overworked girl. I enjoyed the sauna, the whirlpool a cavernous shower with more options for water than I knew what to do with and a glass of wine in the meditation room, wrapped in a blanket and draped lazily across my own personal chaise lounge. Later that evening, we joined friends for a relaxed dinner at The Ugly Dog Pub, the local dog-themed watering hole. This town loves their fur babies! We closed the night out with a VIP party at The High Dive, featuring chef's oyster shucking and thankfully, for this Florida girl, heaters.
We had a little more time to get to know Highlands, so it was time for the town to show off. The main event of the festival; a two-block corridor of downtown transformed into an elite celebration of all things wine, food, oysters and music featuring the seldom seen Americana artist Robert Earl Keen. Though this was enticing, my attention was drawn to the Sip & Shop activities, where each store was paired with a vineyard for tasting while you shop. Let's be honest, those of you who know me aren't surprised, and the shopping is divine. Something for the hubby at TJ Baileys, something for mom at The Christmas Tree, a little trinket for my daughter at the Highland Hiker and maybe a thing or two for myself along the way.
But the highlight of the day, possibly even of the year, was the private Caymus Vineyards and Wagner Family Wines dinner at Wolfgang's Restaurant & Wine Bistro. Before attending I was a fan of Caymus, but getting the opportunity to listen to the wines origin's was fascinating. Next time you see me, ask how Conundrum got its' name. Chef Wolfgang was on tap to entertain and leave his guests in wonder with his cleverly matched dishes. It was, quite simply, a perfect experience.
To say that Highlands left it's mark on this Florida girl would be an understatement. Like so many before me, I understand and appreciate its appeal.
There's no doubt, we will be back. And hopefully next time, Sir Bentley will be able to join us at the Park on Main where, dogs are the stars and their humans are just along for the ride. ♦