Rolls-Royce Bespoke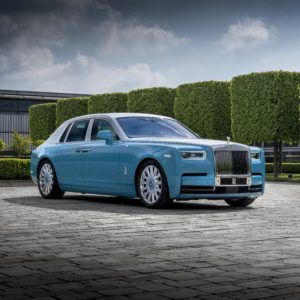 A trio of Rolls-Royce Phantoms are the latest bespoke creations to leave the home of Rolls-Royce in Goodwood, West Sussex, England. "Our Bespoke division is working tirelessly to fulfill customer demand. Never before have we seen such levels of demand for Bespoke personalization. These three Phantoms have taken several years to bring to fruition and are a true reflection of our Bespoke Collective's extraordinary skill in interpreting and realizing our clients' visions," says John Beckley, head of Rolls-Royce Bespoke. The Bespoke Collective furthered the gold detailing to incorporate key areas of Phantom's interior. Taking over three months to develop, gold inlays were aligned, and set by hand, in smoked eucalyptus wood on Phantom's rear doors and picnic tables. Rolls-Royce models start at $250,000, with bespoke models starting around $600,000. rolls-roycemotorcars-tampa.com
Cigar City Humidors
BCIC Cigar of Tampa has released Cigar City Humidors' special edition, 16-cigar, vertical Spanish Cedar humidor with walnut finish.
Designed specifically as a better alternative to cheaper travel humidors, Cigar City Humidors are handcrafted in North America.
"The 16-cigar vertical by Cigar City Humidors is unique and my favorite design. It's the main reason I bought the company," says David Happe, head tobacconist at Cigar City Humidors. "People who buy decent cigars don't want to store them in some cheaply made, Chinese-drywall, particleboard jewelry box. Our 16 vertical model is a real wood humidor, made by adult craftsmen at a North American wood shop, using real Spanish Cedar internals. Maybe for the first time ever, cigar enthusiasts have something to keep their cigars in that is worthy of the cigars they like."
The humidor retails for $99.99 with free shipping directly from Cigar City Humidors. bciccigar.com
Bswanky Bags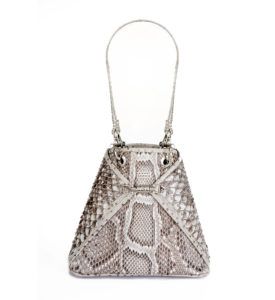 Founder and CEO Gretchen Bauer started Bswanky with a goal to responsibly manufacture products that empower women and give back. The Sarasota-based brand designs and produces its luxury bags out of its own factory, a space that also houses a studio and concept store.
Bswanky aims to change the ethical standards accepted by the United States of America garment industry by redefining what "made in the U.S." means and creating high-quality, versatile accessories that reflect the environment from which they're made–beautiful, happy and inspirational, Bauer says.
The Sophia Calusa Python, which retails for $3,200, is one of the most popular sellers. With a few quick and easy alterations, the straps can be moved and the purse turns into a backpack. 
The bag is crafted from python skin, ethically sourced from the Florida Everglades.
Bswanky has partnered with the Florida Everglades Python Hunters in efforts to eradicate the invasive python species and restore balance in the delicate Everglades ecosystem. Because the skins are sourced from wild pythons where no two are identical, each bag is a unique edition, varying slightly in markings and color. bswanky.com
Diamonds for dining
Celebrities and VIP patrons of Tampa restaurant Eddie V's now can experience a once-in-a-lifetime opportunity by eating their meal with some of the world's most-expensive dining utensils. The set consists of a $20,000 diamond knife and a $15,000 diamond and sapphire fork.
Ron Ackerman, owner of Ackerman Jewelers and creator of the pieces, says that the knife "contains over four carats of colorless diamonds and the fork contains over three carats of colorless diamonds and deep blue sapphires. Each stone must be individually set by hand and takes countless hours in a painstaking process."
The original idea for the diamond flatware came from Las Vegas restaurant STK and Jason of Beverly Hills, a celebrity jeweler based in California, about seven years ago. The likes of Kobe Bryant, Halle Berry, musician Foster the People, LeAnn Rimes, Gavin Rossdale and other celebrities have dined with their knives in Vegas.
Ackerman and Stephen Hickey, managing partner of Eddie V's, are looking to bring some of that flare to dining in Tampa. eddiev.com.
Tiffany's Ultimate Advent Calendar
Tiffany & Co. gives new meaning to "the more, the merrier" with its holiday catalog, featuring 12 one-of-a-kind gifts and experiences.
One of the offerings truly keeps on giving.
A treasure trove of Tiffany surprises are housed in a four-foot-tall Advent calendar, offering 24 days of "blue box" gifts.
A hand-illustrated rendering of the flagship store on New York's Fifth Avenue holds items including a sterling silver paper cup, a Tiffany T True bracelet in 18-karat yellow gold, and a Tiffany Smile pendant in 18k rose gold with diamonds.
The calendars cost $112,000 and the company is making only four available. tiffany.com
Luxury activewear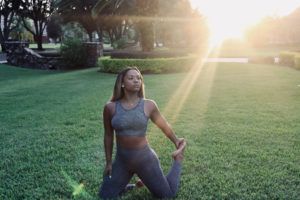 A Tampa woman is starting a luxury activewear company called Herrway, which
is described as luxury activewear for women with confidence, curves and commitment to self-care.
"Our brand edict promotes self-care and confidence over conformity; and rocks clothing that speaks to unique ethnic sensibilities," says founder Breion Allen. Prices range from $30 to $75. herrway.com