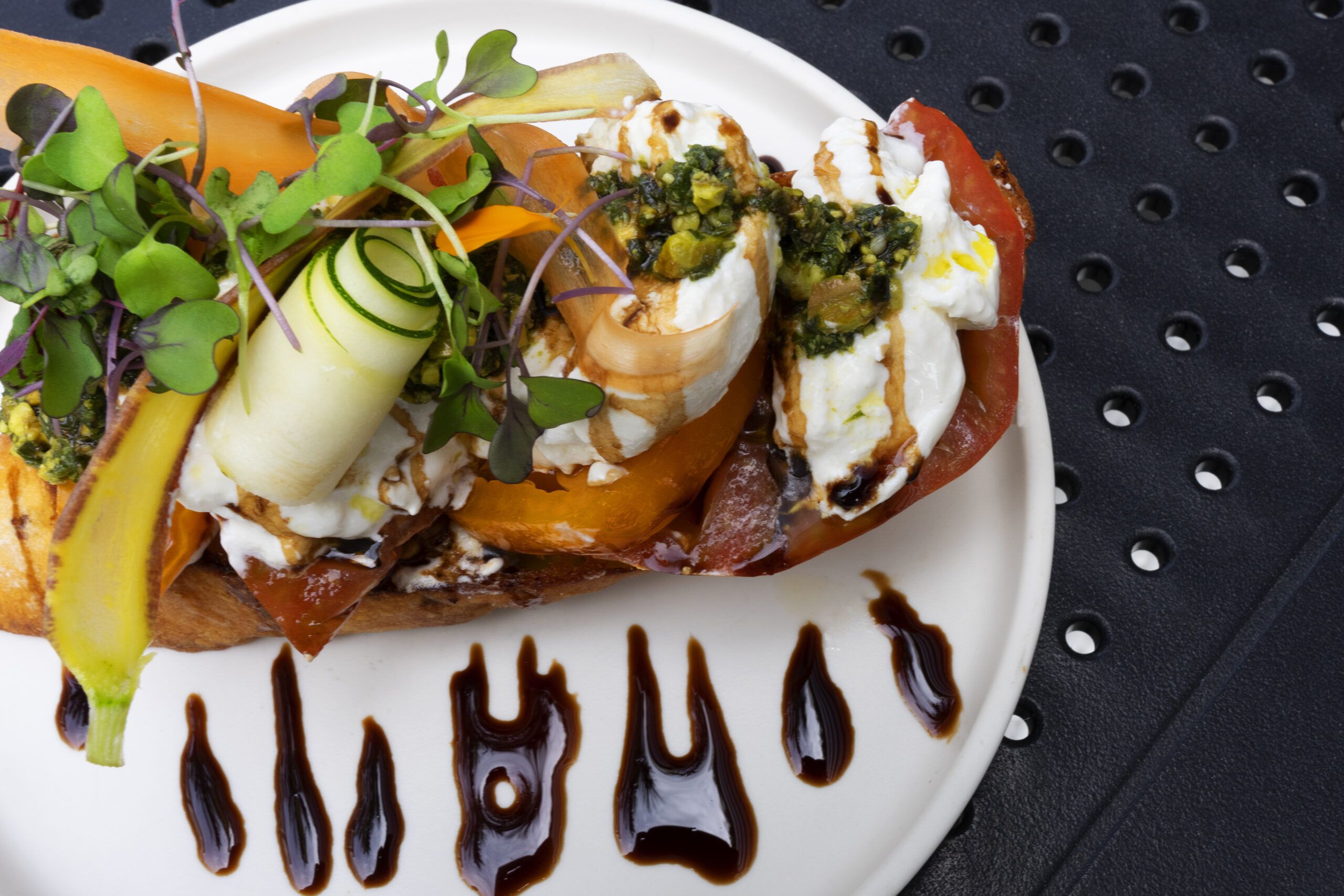 The St. Pete experience rises at Social Roost (PHOTOS)
150 First Ave N., St. Petersburg
Social Roost is a fun, and eclectic, restaurant in downtown St. Petersburg, serving inventive cocktails and delicious food. It's the brainchild of St. Petersburg natives Rob Bowen and Jason Teabout, who wanted to create a restaurant inspired by their love for travel. The team with Susan Burdian, a chef from New York, to create a menu filled with dishes from around the world. The atmosphere is laid-back glamorous with big booths, a social table and leather swivel chairs. Social Roost raises the bar on the St. Petersburg experience. And an Instagram-worthy glitter wall, plus a little neon, make this a great spot to start a night on the town.
A SPIRITUAL CALLING
The cocktail menu at Social Roost is a collaboration between the owners and Max Blowers, a St. Petersburg native who has risen above the mixologist rank to general manager. For the front of the house, Max rules the roost. His signature cocktails run the gamut of exotic ingredients, artful presentation, and a flair for the dramatic.
The brilliant green color of the Goddess cocktail comes from cilantro and basil, while the sparkle on the tongue is courtesy of the jalapeno-infused tequila. The Jet Setter starts with a divine, house-made, spiced pineapple shrub. Amaro and Coconut Cartel-aged rum is blended in and a little lime and cinnamon complete the flavor profile. It's as beautiful as it is delicious, with a garnish of a dried pineapple slice and edible flowers. It's tropical, without being too much like a Jimmy Buffet cover band.
HOW ABOUT A LITTLE NOSH?
The lunch and dinner menus feature a section with light items ideal for sharing, like the bruschetta. Grilled ciabatta is topped with heirloom tomatoes, burrata, pistachio pesto and a balsamic drizzle. Colorful ribbons of seasonal vegetables, and edible flowers, stud the fresh cheese, while nuts and crusty bread provide a nice, textural contrast to the creamy burrata.
This is artwork that satisfies all five senses. The chopped salad is another colorful presentation, filled with textures, and flavor, and a surprise comes in the spicy red-wine vinaigrette. There is a definite kick that comes from the red and jalapeno peppers infused into the dressing. 
FEEL-GOOD FOOD    
Wonderfully satisfying comfort foods dot the menu at Social Roost, such as fried chicken and shrimp and grits. When you need a little homespun comfort, order the chicken pot pie. It's everything a classic chicken pot pie should be with an added twist of butternut squash and sweet potato in the filling.
Short ribs are another comfort food that will put a smile on your face every time. They are rich, and meaty, slowly braised in port wine and a broth made from beef neck bones. When the meat is falling off the bone, they are served over a bed of whipped potatoes with rainbow swiss chard. Then the dish is topped with crispy fried shallots. Pair these short ribs with a hearty red wine and you'll be all toasty, even on the coolest of nights.
AROUND THE WORLD
Along with comfort classics, the menu features dishes inspired by the globe-trotting travels of Bowen and Teabout. For example, chicken is offered in a tagine from North Africa, in a Peruvian style with rice, beans, plantains and pio pio sauce, and khao soi style in a coconut curry broth from Southeast Asia.
From the Middle East comes shakshuka. Here, eggs are poached in a smoky tomato sauce with coriander-spiced chicken, yogurt, avocado, radishes and microgreens. The egg yolks ooze into the sauce, adding a richness that gets cut by the radish. Dip toasted ciabatta into it or use the bread as a delivery vehicle to get shakshuka into your mouth. The menu offers so much variety that everyone can find a dish they crave every time they go.
FLARE AND A FLAIR
While chocolate, citrus and berries fill the dessert menu, head back to the bar for a nightcap and a show. The Diplomat fills the bill. Served in a snifter, this cocktail is part of the perfect ending to dinner at Social Roost. It's created with Vago Elote mezcal, campari, coffee, Mole bitters and Punt Y Mes vermouth. It's a mouthful of smooth, slightly bitter with a little chocolate finish.
They place a little bowl over the top filled with wood chips, then torch it, sending a cloud of smoke down below to fill the glass and infuse the cocktail with a smoky flavor. The flame and smoke of the Diplomat, combined with a selfie in front of the glitter wall or under the neon, is everything you need before stepping out into the St. Petersburg nightlife. ♦