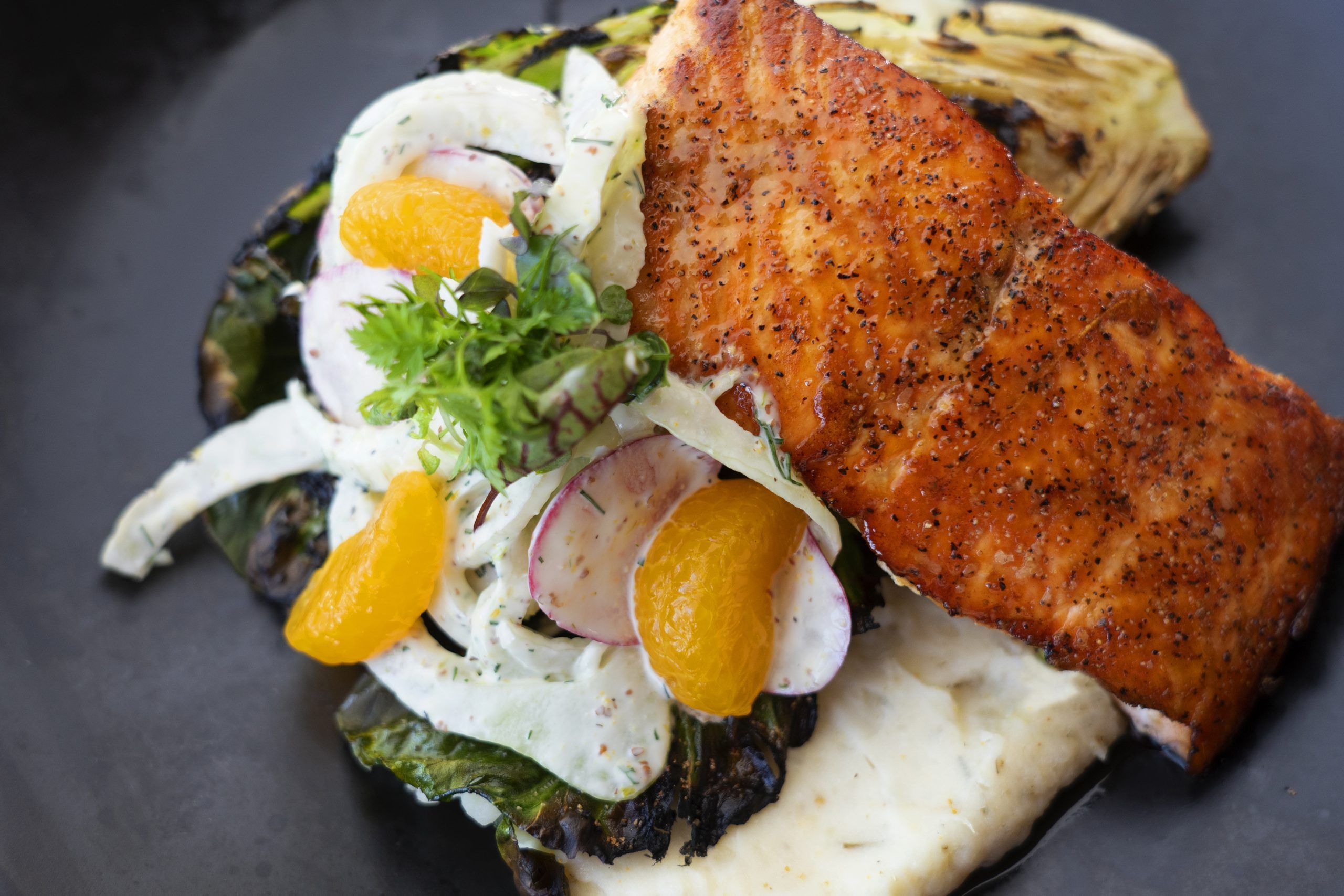 Paradise found at 82 Degrees on St. Pete Beach (PHOTOS)
82 Degrees | 7203 Sunset Way, St. Pete Beach
82 Degrees is a little restaurant and bar, stashed off Sunset Way, in St. Pete Beach. It's awash with natural light streaming through floor-to-ceiling windows on three sides, giving a panoramic view of high-rise buildings and the Gulf of Mexico beyond. 82 Degrees is stylish, created to serve guests of the Saint, a boutique hotel once known as the Sun Dial. It was transformed in June 2021 and updated with a Miami-chic vibe. While the location is brimming with casual, beachy ambiance, chef Perica Atanasov and his team have created a sophisticated menu filled with thoughtful combinations and unique ingredients.
The perfect antidote to a sun-drenched day is the Hot Summer Night cocktail. It's made with Tito's Vodka, elderberry and thyme syrups, lime juice and a puree of tropical fruits. The brilliant color pays homage to a bright midday sun. The combination of sweet flavor and tart lime is smooth and delicious. This drink and the sun have more than just the color in common. Too many hours in the sun and too many Hot Summer Nights can sneak up on you quickly. And before you know it, there could be trouble ahead.
The Rompe Roller Old Fashioned gets its name from the Rompe Corazon Mezcal and is unlike any old fashioned you're used to drinking. The color is clear, garnished with a dehydrated orange slice, a Luxardo cherry and a fire-kissed cinnamon stick. The bartender adds orange bitters and infuses the drink with smoke for complexity and added flavor. It's light, refreshing and citrusy, with an undercurrent of dark and serious. Forget the gin and tonic. This is what a modern, coastal gentleman drinks at the beach.
Start dinner with a classic burrata Caprese salad. Ripe heirloom tomatoes, fresh burrata and house-made pesto deliver classic flavors and showcase the highest-quality ingredients. For something different, order the crab-stuffed avocado. Jumbo lump crabmeat is stuffed into ripe avocado halves, resting on a red cabbage slaw. It's creamy, slightly sweet from the firm crab, while a little tang comes from the slaw. The drizzle of chipotle aioli hits the back of your throat with a pop reminiscent of lingering fireworks. This is an example of coastal cuisine at its finest. You'll have a hard time stopping before the plate is clean.
If you're looking for something to share, try the Pine Isle Flatbread. The flatbread provides a crispy base for cremini mushrooms, sauteed sweet onion, roasted red peppers, brie cheese and arugula. A drizzle of white truffle oil finishes it off. The brie cheese makes this dish. While any soft cheese could have been used, the brie's intense flavor stands up to the other bold flavors and takes the party off the rails. A small group will devour one of these flatbreads in seconds, so you'd better order two or three.
Main courses showcase complex flavor, and texture, profiles as well as unique ingredients. Red curry sea scallops pair with oyster mushrooms, which have a meaty texture and flavor, mixed with blistered edamame. The edamame provides a starchy slip on the tongue that's brilliant and perfect. Another dish presents salmon with a crunchy fennel salad, mandarin orange supremes and daikon radish. A grilled wedge of little gem provides a smoky flavor and a perfect accompaniment to the firm fish, slightly sweet from the glaze of grapefruit and agave.
A Duroc tomahawk pork chop gets topped with a mushroom demi-glace and crowns a cake of grilled grits. Crisp lardons mixed with sweet corn kernels and pearl onions grace one side. The thick chop was juicy, and flavorful, but the cake steals the show. It was creamy with just a hint of texture. Like most dishes at 82 Degrees, the ingredients of this dish combine to produce a balanced flavor profile. The sweetness from the pearl onions and corn offset the salty lardons, and a little sherry and red wine balance the rich demi. It's all well thought out and planned to maximize the diner's enjoyment. And it delivers according to plan.
Dinner at 82 Degrees delights the senses. Delicious food, inventive cocktails and stunning natural beauty combine for a night you'll wish to repeat. Best of all, if the Hot Summer Nights catch up too quickly, you can spend the night at the Saint. Then wake up in the morning refreshed and ready to experience it all over again. ♦