David and Nicole Debourg-Kahn found love the second time around. Together for 10 years, and married for seven, they have five children between them. Nicole worked as a human resources executive in technology for the past 20-plus years but changed directions and formed her own business, Hazel Ivy Botanicals.
David, with his knack for custom tailoring, has been in the Tampa Bay fashion scene for more than 20 years. From Hugo Boss to George Ltd., to eventually forging his own brand with Bespoke & Co. Together, they are a creative entrepreneurial power couple. But to understand their business sense, you must first know their stories.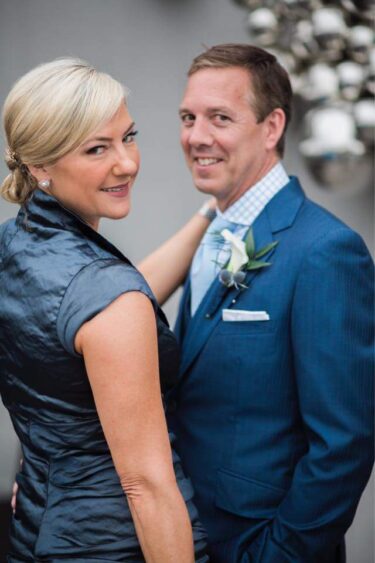 Nicole's story: As the daughter of a horticultural family, Nicole grew up surrounded by beautiful spaces, gardens and homes filled with flowers. To her, it never felt like home without fresh flowers, she says. In fact, she might have been the only kid in college spending her money on fresh flowers for her dorm room. Her curiosity, and love for florals, prompted her to take a floral class series from Botanica International Design Studio shortly after moving to Tampa, 20 years ago. This began her adventure to hone her craft. Ian Prosser, owner, and designer of Botanica is, to this day, a friend and mentor of Nicole's. She says she feels she learned from the best of the best.
Finally, in late 2022, Nicole decided the time was right to launch her own floral design company with her two daughters, Mia and Ella. True to her nature of always going big and bold, her first purchase was a large, and not inexpensive, floral cooler. Her mantra is "if you build it, they will come." Her father planted the original ivy in Chicago's Wrigley Field, and her daughters have the same hazel eyes as mom, hence the name Hazel Ivy Botanicals.
From her perspective, florals are an art, and the most precious kind. Because floral arrangements have a finite moment of beauty, it makes them incredibly special and luxurious. Hazel Ivy's Floral Club offers several subscription memberships that vary by size of arrangement, and frequency of delivery, and her clients also depend on Hazel Ivy for gifts, holiday decor, event florals and access to private floral parties and workshops.
David's story: David began working in the apparel business in 1978 while in high school in southern New Jersey. Growing up in the '70s and '80s, the "preppy" era sparked his infatuation with luxury clothing and he was influenced by fashion icons such as Ralph Lauren and Brunello Cucinelli. Living so close to Philadelphia, and less than two hours from New York City, David was afforded the opportunity to develop a fervor for style and fashion.
David's first job out of college was buying fabrics for Pincus Brothers-Maxwell, which produced Bill Blass tailored clothing. His knowledge of fabrics and manufacturing opened the door to buying and merchandising jobs with companies such as Nordstrom, Paul Stuart and Mitchell's of Westport, Connecticut. In August 2001, as a general manager for Hugo Boss, David moved to Tampa and opened the International Plaza location. After just a few years, seeing a specific need for custom clothing, he knew that he needed to find a more specific niche, with a focus on bespoke clothing and, in 2007, he founded Bespoke & Co.
Currently, David dresses some of Tampa's most successful executives, prominent local attorneys and professional athletes, coaches and administrators for the Tampa Bay Buccaneers, Tampa Bay Lightning and Tampa Bay Rays. Many of these clients can be seen showing off unique designs on the runway at Bespoke & Co.'s annual signature charity event.
THEIR LOVE STORY
What Nicole says: "I'd be remiss if I didn't mention the most important part—David has been both my inspiration and my greatest cheerleader. Our combined love of design, creativity and entrepreneurship make for one hell of an exciting marriage."
What David says: "In 2013, I met Nicole, and our combined love for fashion and design, along with our passion for life and success, was an instant attraction to each other. We married in 2016 and our love, and support, for one another boosted our individual successes as well as the union of our new family."
In the words of the iconic Taylor Swift, "You'll be the prince and I'll be the princess. It's a love story, baby, just say, 'Yes' "… For Nicole and David, it's their fairy tale ending.
Hazel Ivy Botanicals and Bespoke & Co. are both in South Tampa.
For more information on Hazel Ivy Botanicals, visit www.hazelivybotanicals.com
Bespoke & Co. is located at 3305 W. Bay to Bay Blvd., www.bespokeandcoFL.com
Brooke Palmer Kuhl is the president of RSBP Events & PR, a lifestyle and hospitality public relations, event and wedding planning firm.
Have a business or story you think would be a good fit for TBBW's Luxe Life? Contact Managing Editor Jo-Lynn Brown at jbrown@tbbwmag.com.♦