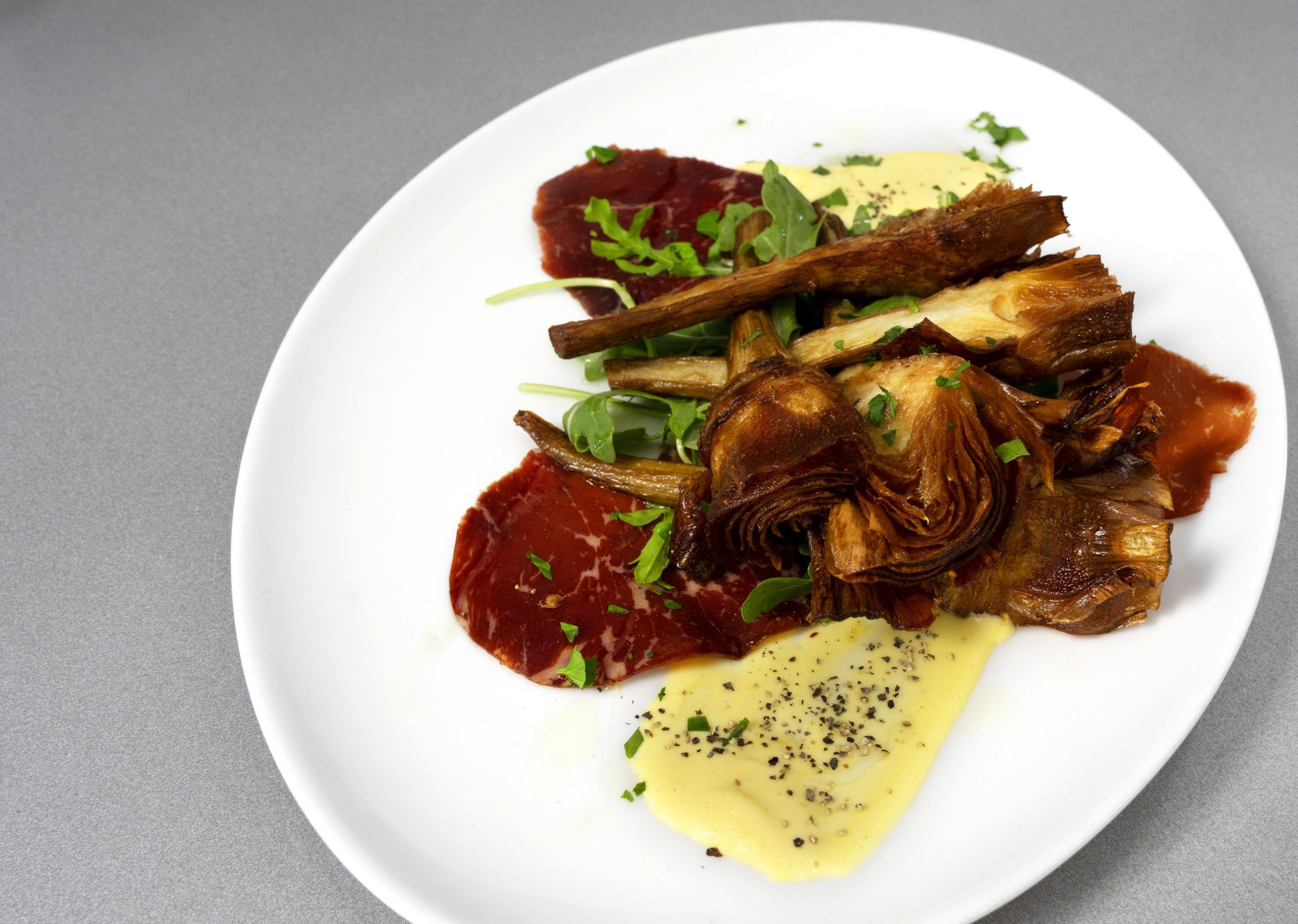 Channel District sophistication
Cena | 1208 E. Kennedy Blvd, Tampa
Cena, pronounced "chen-na," is a bold, inventive and award-winning trattoria located in Tampa's Channel District. Owner, and chef, Michael Buttacavoli honed his culinary skills at remarkable restaurants throughout Tampa, including SideBern's and Council Oak. But in his own place, his Italian heritage shines in a restaurant that is special, and unique, in the Bay area's restaurant scene. The sophisticated space is long and thin, with high ceilings, dramatic finishes and cases of wine bottles presented on a wall, near the bar. And it's at the bar where your Cena experience should begin.
BIG-CITY FEEL
The Bar at Cena boasts a big-city feel. It's tight, and well-stocked, with an impressive list of signature cocktails, like the Boulevardier. The Boulevardier is an Italian spin on a Manhattan. Bourbon replaces the rye and cappelletti joins the party. Cappelletti is a wine-based aperitif that adds rich character, a little sweetness and just a hint of bitterness to the flavor profile of the Boulevardier.  Cappelletti is reminiscent of Campari, but far more drinkable. Sipping any of Cena's signature cocktails at this bar instantly transports you to a bustling bar in New York or London.
A BRIGHT, BURST OF FLAVOR
Start dinner with chilled piccolo morso like the wagyu beef carpaccio or tuna crudo. If you're looking for a hot appetizer, order the fried artichokes. The outer leaves are crisp and brittle, while the heart is tender and warm. They sit atop slices of bresaola, a little arugula and lemon aioli. The textures, and flavors, play well together, complementing each other so each element gets its moment in the spotlight. The lemon aioli adds a bright burst of flavor and clears the palate, so you are ready for the next course to come.
NOTHING SHORT OF SPECTACULAR
Truffle mushroom risotto at Cena is nothing short of spectacular. It's made creamy by carnaroli rice, the "king" of risotto rice. It's a smaller grain than Arborio rice and has a higher starch content. That means it creates a creamy yet al dente texture that sets the standard for fine risotto. Seasonal mushrooms, parmesan and shaved black truffles give an earthy flavor that lingers after the creamy mouthful clears the palate. Truffle mushroom risotto may not be what your grandmother served but it is Italian comfort food at its finest.
PLAYFUL WITH LOTS OF SURPRISES
For pasta, don't pass up the burratini with shishito pesto. Housemade pasta is cut into flat strands, using a wooden box with wire resembling guitar strings. Shishito peppers give a wonderfully smoky flavor while providing a unique texture to the pesto. Pecorino adds a little saltiness. The presentation is eye-catching, with ripped burrata filled with lemon zest crowning the dish and set against a dramatic black plate. At first glance, you might think it's an egg, with the oozing burrata playing the role of the egg white and the lemon zest standing in for the yoke. It's playful, with lots of surprises and flavors you haven't experienced or could get anywhere else.
BREATHES LIFE ONTO THE PLATE
For the main course, pork belly is a crowd favorite but the rack of lamb takes centerstage. The lamb is perfectly seasoned, tender and delicious. It is accompanied by roasted fingerling potatoes and a little arugula pesto studded with toasted almonds. What steals your attention is the brilliant schmear of Calabrian romesco that breathes life onto the plate. Calabrian chiles give a little kick to the subtle sweetness of the red pepper-based sauce. It cuts the richness of the lamb and quietly flashes against the back of your tongue.
A SURPRISE AWAITS
A surprise awaits in the chocolate cake with dark chocolate mousse dessert. For the first few bites, you enjoy the flavors of dark chocolate and the textures of cake, and a light mousse. Then, just when you don't suspect it, your taste buds get a hit from the salted caramel baked inside the cake. The flavors and textures instantly change with the caramel adding depth to both and the salt popping off the chocolate.  To enjoy this deep chocolate experience, ask the server to present the scoop of raspberry gelato on the side. The gelato is quite good but true chocolate aficionados won't want anything getting in the way. Pair this dessert with an espresso martini and contemplate possibilities for the night ahead.  ♦