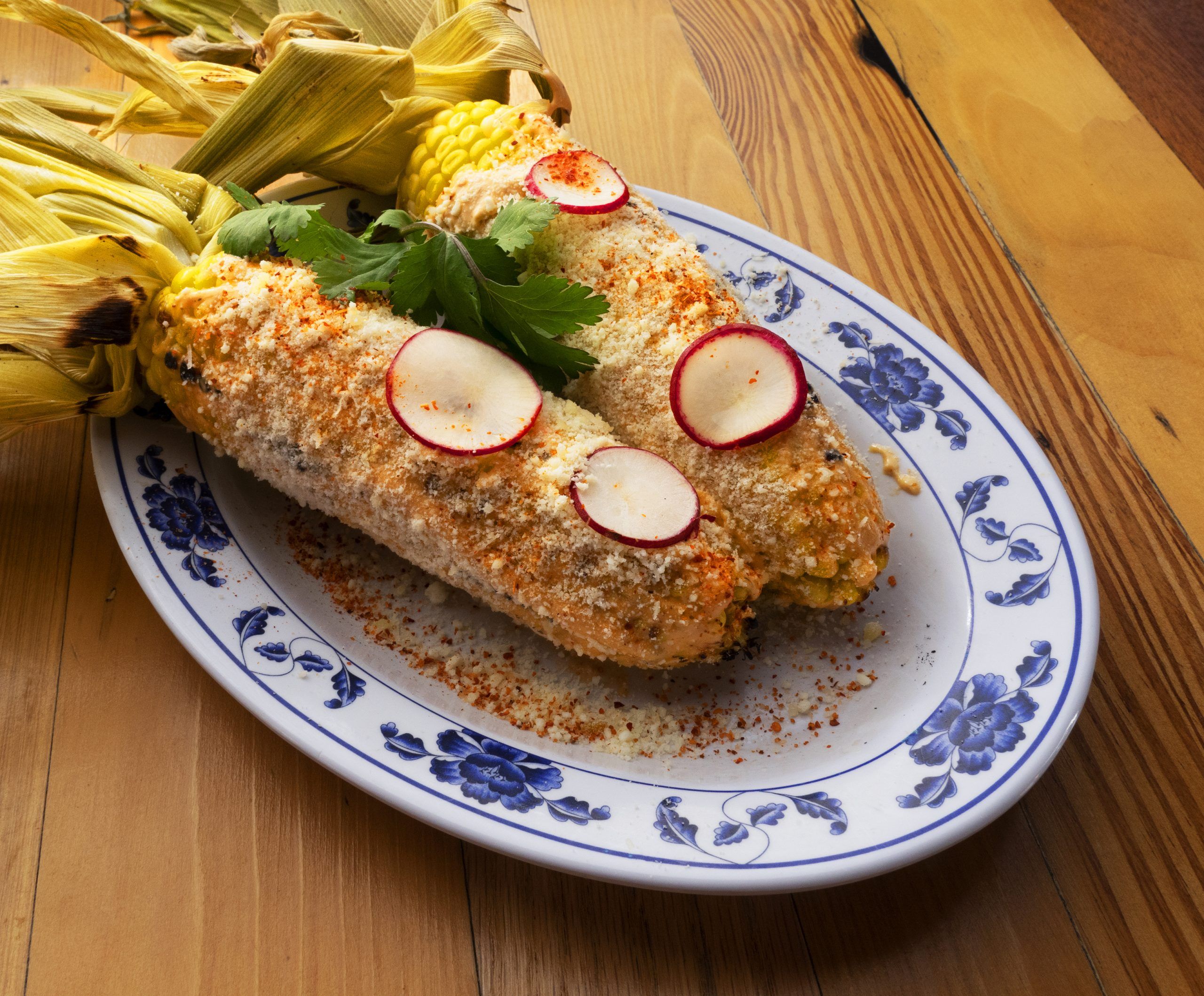 Mexican, with a nod to Asia (PHOTOS)
Privileged Palate: Jotoro | 615 Channelside Drive, Tampa
Jotoro, chef Joe Isidori's Mexican restaurant, in Tampa's Channel District, is a casual spot for drinks and dinner near the seaport. The space is filled with bright accents and a luchador image painted on a giant chain canvas. While Jotoro's heart is in Mexico, the menu is instilled with an Asian influence. The unique culinary experience combines the flavors of Mexico with those of Korea and Thailand. And when it suits him, Isidori slips in a little Carolina barbecue for good measure. Forget what you know about Mexican restaurants and get ready for something different at Jotoro
Far More Complex and Sophisticated
A great way to start your Jotoro experience is with a round of dragonfruit mojitos. The flavor, and brilliant color, come mostly from prickly pear syrup. The dragonfruit's little black seeds float through the drink. Fresh mint and lime bring you back to Mojito-town. Order this with a big bowl of crispy tortilla chips and a trio of dips, known as the Three Amigos. The dips are house salsa, classic guacamole and Tex-Mex queso. After one taste of each, you will quickly make friends with all three. The guac is fresh and the warm queso is rich and satisfying. The salsa, however, is the star of the show. Its color is a deep, Navajo red and comes from charring tomatillos, onions, tomatoes and guajillo peppers. Guajillo chiles are the dried form of the mirasol chile. They have a smoky flavor profile, deepened by roasting them over an open flame. They also have a mild heat, registering 2,500-5,000 on the Scoville scale, somewhere between a poblano and a jalapeno. The salsa is completely different from the fresh salsa served at many restaurants, it's far more complex and sophisticated. 
A Perfect Bite
Another starter option is a Pretty Boy Cocktail. The Pretty Boy is a spin on the French martini using Patron Silver tequila and a pineapple, lime and raspberry puree. It's garnished with sugared raspberries and served in a coupe glass. It's smooth, not nearly as sweet as it looks, and pairs well with the ahi tuna poke. The poke is fresh and mild, getting a lot of flavor from a housemade Thai-chili dressing. It's topped with sliced avocado and chipotle mayo drizzle, and served alongside housemade crispy wontons. Pile the poke on a wonton and you've got a perfect bite. It's crispy, creamy, sweet and spicy all at once and will pull you in until everything is gone.
Flavor in Layers
As you look over the menu at Jotoro, do not pass by crispy tempura fish tacos. If you can only get one thing on the menu, this is the one to get. Mild cod filet is battered and fried to order, resulting in a wonderfully crisp bite. The fish fills soft flour tortillas, topped with julienne radish, chipotle mayo, housemade pickled red onion and micro-cilantro. The onion cuts the mayo, the soft tortilla complements the crispy tempura fish, a squeeze of fresh lime brightens everything. It's worth a drive from anywhere in the Bay area to get another one. Mexican street corn is a perfect accompaniment to the tacos. Each bite delivers flavor in layers that will make you smile. Ears of corn are slathered in chipotle mayo, then covered in grated Cotija cheese before getting dusted with a Tajine spice blend. Take a bite and the first thing you get is creamy and spicy, then it turns a little salty, from the cheese, followed by the sweetness from the corn.
For something unique, try the spinach and mushroom enchiladas. Tucked inside each roll is a creamy spinach filling. Before serving a little Monterey Jack cheese is melted over the top. The radish garnish adds a nice little crunch. The taste is reminiscent of the Greek dish spanakopita. By itself, it's a great vegetarian option, but carnivores can crown it with grilled steak, chicken or shrimp.    
A Slice of Heaven
A slice of chocolate cake at Jotoro is more than a slice of cake. It's a slice of heaven. The cake is light, rich in chocolate flavor with a hint of sweetness. It's got six layers filled with a cream cheese and whipped cream frosting and served alongside a little bowl of Nutella. Along with the cake, order a cup of coffee laced with a shot of RumChata and linger over the two while you gaze at the cruise ships lining the dock. The ships may be headed to Mexico soon but at that moment, you are already there. ♦