An attorney, a real estate investor and a serial restaurateur walk into a bar … no, this is not the opening of a joke, it's the reality of the founders of Next Level Brands. 
The founding team is made up of Joseph Guggino, an attorney and investor, Andrew Wright, founder, chief executive officer and managing partner of Franklin Street, and Jeff Gigante, former co-founder of the Ciccio Restaurant Group, and the mastermind behind the roster of restaurants that have opened under the Next Level Brands name, including Forbici Modern Italian, Boulon Brasserie and, most recently, Union New American, the latter two of which were both designed by Montreal-based architecture firm Atelier Zebulon Perron.
Thus far, each restaurant has been a stunning success, elevating the dining offerings in Tampa with each opening.
And, according to Gigante, it's just the beginning for NLB.
BUILDING THE TEAM
Originally from Staten Island, New York, Guggino relocated to his father's hometown of Tampa in the late 1960s. Tampa was where he and his brother were raised. He attended Jesuit High School and, later, Florida State University. Incidentally, Guggino and Gigante were at FSU at the same time, though they didn't know each other.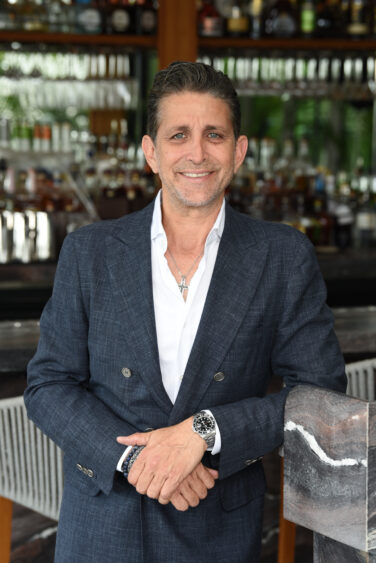 "At FSU I was mentored by a lot of attorneys so it was a natural progression for me to go to law school," says Guggino.
He attended Stetson Law School and worked for Matt Greco doing litigation work in medical malpractice, in Tampa, for about five years.
"I decided I wanted to do something more entrepreneurial," he says. "Frankly, I was just tired of suing people."
He remained of counsel for his firm but started investing in commercial real estate. This is how he met Gigante.
"Jeff was really at the forefront not only of bringing CRG to Tampa, but he also had a vision for Howard Avenue before anybody even knew what Howard Avenue was," Guggino says. "That's how our worlds came together. We would work on deals together. We would meet with people, he'd see opportunities, I'd work on the contract. So together, we would make these deals happen."
Eventually, Gigante extended an offer for Guggino to invest in the restaurants.
"I was always interested in the food and Jeff would be kind enough, even though I had a fraction of a percentage of these restaurants, [to] invite me to tastings," Guggino says.
About six years ago, Gigante had determined he was far more interested in focusing on his passion, experiential dining.
Gigante wasn't inspired anymore. He wasn't in the restaurants. He was in a corporate office looking at a computer screen. It didn't suit him.
"[Forbici] was his idea," Guggino says. "He asked me if I wanted to be more involved with [this new concept]. I said yes."
Guggino had never worked on a wine list before, but he and Gigante worked on that together and then the menu.
A mere months after opening the doors to Forbici, the COVID-19 pandemic hit, creating major obstacles for all restaurants. The masterminds behind Forbici found a way around those obstacles.
"Even through the toughest of times, the restaurant thrived. And even through the most difficult of experiences, we came together even more and had success," Guggino recalls. "We still relish those times when it was just so difficult, you know, as Andrew likes to say, 'suffering is sacred.' Right. And we were definitely getting to have some sacred time."
Following the success of Forbici, it was time to start planning the next big thing.
"I was like, man, we can do this 10 more times. Let's go. I'm ready," Gigante says. "I was able to finally express myself without having to ask permission to do things. I knew that no matter what my life was going to be, it was going to be that way. And then, everything just kind of fell into place."
Gigante brought in someone he knew had a mind for real estate and investment, Andrew Wright.
"Andrew basically said, 'Look, Joe, I don't know you, but if Jeff loves you, I'm going to love you.' And then he said, "I have a great deal of confidence in Jeff. I want you guys to think about [it/this] do you want to have a restaurant? Or do you want to have a hospitality brand? Do you want to own a restaurant? Or do you want to build a company?" Guggino recalls.
"Joe is so detail oriented, organized and systematic. I am all over the place, the big dreamer … Andrew is like, OK, with triple-A locations, we want to do financing this way, we'll raise money this way, we'll do debt this way," Gigante says. "How great is it to be able to do what you love, and what you're really great at, and then have other people fill in what they love to do and they're really great at and, together, it's this union that is unstoppable."
WRIGHT GUY, RIGHT TIME
Born in Columbus, Ohio, Wright moved to Tampa after college when he was offered a job through a friend.
"It was the lowest-paying job offer, a sales intern position. But I went golfing at Westchase with a couple of my buddies and I hit a hole-in-one on the 11th hole. I'm a terrible golfer, I mean I'm not good now, but then I was atrocious … I took that as a sign," Wright recalls. 
For the next 10 years, Wright made a name for himself in the real estate world.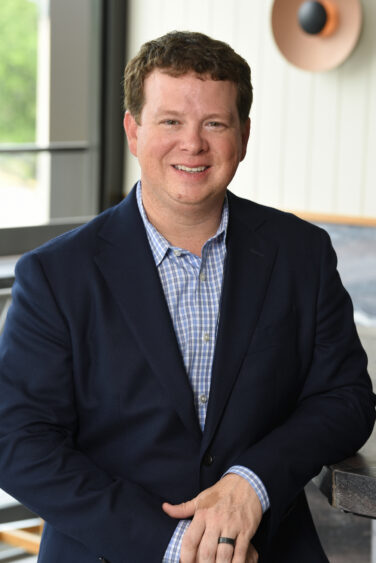 "In 2002, I started doing my own deals," Wright says. "It was during the condo conversion craze. You would buy something for $100,000 and sell it for $200,000. It was just a great time and, as a midwestern kid coming from a solid middle-class background, all of a sudden, I'm making a ton of money. It was just crazy."
With an entrepreneurial spirit, he says he always had, he began the business plan for his own firm, which he would name, Franklin Street, in 2006.
Named after a well-driven street in Tampa, the firm had name recognition nearly immediately. A testament to Wright's genius way of thinking, which has served him well in his career.
"The Franklin Street business plan was to have your transaction business, your offensive business, but also to have your annuitized revenue. Your reoccurring income, that's the stability of it," Wright says.
Franklin Street now has hundreds of employees and nearly $10 billion in current transaction value. In 2023, he was named one of Florida's most influential executives in Florida Trend Magazine's "Florida 500" list.
"I think it's one of the most genius things, to have an insurance agency embedded in a real estate company, in this state," Wright says. "It's a huge competitive advantage."
Wright married his college sweetheart, also in 2006, and the couple has five daughters together.
As often is the case in the Tampa Bay community, it wasn't long before Wright, a star in the real estate world, and Gigante, a star in the restaurant world, would cross paths.
When Wright met Gigante, he says, they hit it off right away.
"Jeff's energy is fantastic. I just absolutely loved him," Wright recalls. "We were having a really deep conversation and I told him, 'You have to realize you have all the power. You don't see it, but you are the talent. You just have to go forward."
As Gigante and Guggino worked to establish the beginnings of Next Level Brands, Wright came on board on the business side. He was going to raise the money and put the structure together.
"It evolved into being a full partnership," Wright says. "When we talk about building a company, it's really the culture and the people. Unlike a real estate deal, where it's about the cash flow of a building that has no emotion to it, this [business] is how you make people feel as a customer and as an employee."
While Wright and the NLB team are scooping up desirable properties and expanding its culinary offerings, Wright is still very much making big plays in the real estate world.
The day of this interview one of the largest, if not the largest, deals Wright has done was finalized.
Ally Capital Group, a private equity investment company led by Wright, purchased Urban Centre, an office building in Westshore, for $123 million.
"I'm in all sorts of businesses and they all, in my mind, complement each other," Wright says. "My business goals are to have an ecosystem of businesses, where they all complement each other. Everything wins in that kind of perspective."
And Wright says his eyes are on the Westshore Business District.
"By time this [story] runs, we'll have three major projects. Some of the most iconic projects in this district," Wright says. "It's not just that people are moving here. It's that people with money are moving here and the entire demographic center of what that means for job creation. People bring their businesses, their investments, we are in an upswing for a period of time now."
And, while there are no current plans to include an NLB concept in Urban Centre, Wright is bullish about the purchase and what it adds to his portfolio. 
UNION
Gigante with his vision for the theming and the menu, Wright with his real estate and dealmaking strengths, and connections, and Guggino with his attention to detail and learned hospitality know how … it is a Union of sorts. With all the other bases covered, location is the next crucial part of NLB's model for success.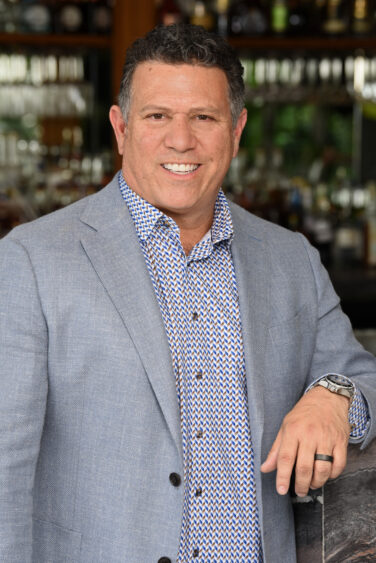 "There are so many factors that go into making sure that you get great locations. And the three that we have, I mean, I would say, are some of the best in the area. And as we look forward, we absolutely would rather pay top dollar for the best spot. I don't care if I get the discount on the A-minus spot. That's not what we want," Wright says.
Nestled in the stretch of the Austin Center, on West Shore Boulevard, which is owned by Wright, that is where you will find Union, NLB's latest concept.
With a desirable location secured, Union was born—the name not only an homage to the masterminds behind Next Level Brands but also to the community. A place where people can unite, and delight, all in the same footprint.
"What does a union mean to you? It's a gathering of people coming together to create a stronger alliance," Gigante says. "It's what I wanted Union to be. We designed and built this entire concept in our heads."
The burning question, especially for those in St. Petersburg, is when can we expect to see a Next Level Brands concept in St. Pete?
While nothing is confirmed, and was not confirmed during this interview, Gigante voiced interest, and intent, to bring one of NLB's popular concepts across the bridge. Forbici.
"We haven't signed the lease yet. But I want to. Here's what I can definitely tell you. Forbici will be the next concept for Next Level Brands. I don't know where, I hope it's downtown St. Pete, and maybe Wesley Chapel, who knows, but I love downtown St. Pete, it's my hometown. It's where I'm from, it would be a perfect story for us to tell," Gigante says.